2015 eveRIAthing Wall of Stars -- Vancouver, B.C.
Going through my emails about a month ago, an adventure lept off my screen and into reality. It spoke of sparkling lights, sequined gowns, and wonderful souls. I could just smell the whymsy in the words.
Marie Davis, publicist for a teen actress, Matreya Scarrwener (Dorothy on the show Once Upon a Time), wanted to know if her client could wear one of my gowns to a televised awards event on July 25th in Vancouver, B.C..
I was so excited about the whole thing, that I thought to myself, wouldn't it be something if I could see her wearing my dress in real life?
Before I knew it, Davis had sent me three complementary tickets to the event, and I was dusting off my passport. In doing so, I discovered that my mom's passport had expired, and the event was only three days away!
That was a major predicament, and it looked like I would be unable to go. But then I thought to call on Ronda Thornburg, a dear family friend who is always up for an adventure. She was on board, and so was my grandma, Janette.
At this point, all we really knew about the event was that it was going to be a black-tie awards program for young people, but hey, it sure sounded fun! Ronda went on a quick a shopping spree to find a suitable dress, Grandma fit beautifully into an elegant black gown I made last December, and one of my friend's from middle school let me borrow back a dress I had made for her 8th grade dance.
We had the tickets, grandma's friends were letting us crash at their place, and we had our dresses. We also had 24 hours before we needed to leave.
Friday morning were headed up I-5, stopping in Seattle to drop off one of my dresses with a model-friend for a photoshoot, and to grab lunch at The Purple Cafe (awesome place). After taking a few detours (my navigational skills are about as good as my scrabble skills -- nonexistant), we were having supper with our gracious hosts, Randy and Margo Hoffman.
Saturday morning grandma and I sat out on the flower-laden balcony, reading our books, sipping cinnamon tea and watching the sun climb up its last few steps into the sky. We gorged on fresh peaches and the hummingbirds trilled about as Randy, who has been to over 50 countries, told us about his travels.
At 11:00 I went and had my hair and makeup done. It just so happened that a stylist from Facade West Salon in Vancouver, read about me during VFW, and offered to donate her services to me if ever I had another event to go to in the city.
It was a swarm of bobby pins, hairspray, and cosmetic powder buzzing all around me. The lady doing my makeup was using a long tool that looked like an air-compresser (that's the farm girl in me), and the lady working on my hair had at least seven curling irons nestled into hot little pipes behind me (the farm girl in me also thought those looked a lot like branding irons). It was like nothing I'd ever experienced!
They finished me off with a vintage feather headband, and from there I fluttered my false lashes down to the boardwalk near the venue of the event, and Grandma, Ronda, and I poked around the local market. Guitar music and folk lyrics tumbled across the shore, drifting on scents of curry and roses.
The words, she slipped softly from a summer stream, as sofly as a summer's dream were painted in vintage lettering across the side of a brick building. There were ball gowns on display in every other window. It was enchanting.
We were sad to leave, but were soon walking back along the same streets, all dolled up in our dresses and jewelry, about to walk onto the red carpet that trailed into a 1920s theater.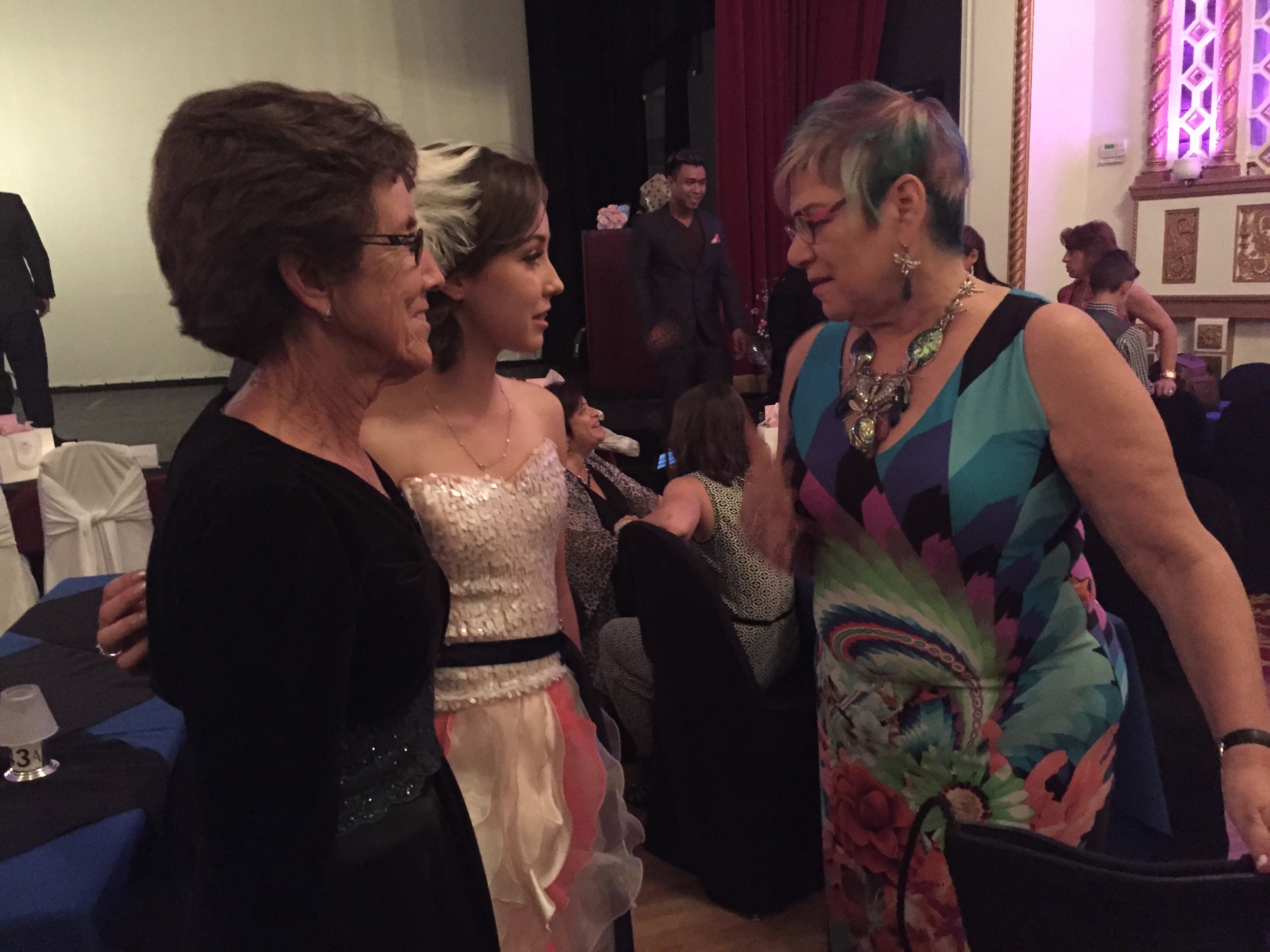 "You must be Kate!" A lovely girl in a familiar dress came up and gave me a huge hug.
"And you must be Matreya!" I was so excited to really be meeting her. We chatted for a while until it was time for her to go backstage, so Grandma, Ronda, and I found our seats.
The entire evening was dedicated to young entrepreneurs and successful teens. It was so fun for me to watch as ballerinas, singers, actors, and even film directors, graced the stage, being honored for thier talents.
We got to hear bits of songs written by 15 finalists competing for record deals and other prizes to get them going. These kids were definitely not just sitting around watching T.V. every day.
After the event, Randi Winter, a wonderful lady I first met at VFW, introduced me to several very interesting people including some of the young stars whom she knew.
It was incredible!
Winter also introduced me to Claude Duke, who is definitely someone you should google. Duke has been a sucessful performer, composer, fashion designer and photographer, getting his start at age nine.
After church with our hosts on Sunday morning, Grandma, Ronda, and I went over to his little basement apartment, where he sold me his industrial sewing machine that he used in his fashion house in the 80s. We all sat down together in his living room, fashion photographs and various instruments galore, and he shared some stories from his life as well as some incredibly valuable business advice from someone who has been through it all.
The last few hours of the trip were spent with Randi Winter. She showed us her 16th-floor apartment that looked out over the city in the water, full of light and color, and then we all wandered down to the Circle Craft Fair.
I'd never seen anything like it!
Artisans from all over the world were set up in their booths, selling fine art in all forms. Silk scarves, dyed with flower petals, flawlessly felted caps, and delicately crafted jewelry to name a few.
I even bought a hat... "For my mother." (hehe)
And that was it -- We said our goodbyes, loaded up the car, and before I knew it I was back home to Scio. I woke up as we pulled in the driveway, and I couldn't help but wonder if I hadn't dreamt the whole thing.
Another fantastic voyage, another perfect adventure in the books.