New England: Tasha Tudor Meets Johnny Cash
Over the river and through the woods, to cross New New England in the fall off my bucket list. Here are some snippets of our weekend escape to New Hampshire.
Toes on the dashboard, swaying to Johnny Cash's "Rose of My Heart."
Red toes, surrounded by cubist reflections of red leaves bouncing off the windshield. Windows down, windows revealing the whisper of Quaking Aspens, the sappy perfume of Brasswoods, and the golden lace strung upon the Mountain Ashes.
New England in the fall.
Sliding down the satin highway — it spools around glossy river bends and up calico hillsides. Yellow stitches down the highway sing to the sun, and yellow leaves send praise to the mountainside in trifold harmony of dijon, honeycomb, and scotchbutter.
A flower not fading nor falling apart. // If you're cold, let my love make you warm. // Rose of my heart.
Sunny maple syrup light warms my face. Involuntarily, I close my eyes and feel the corners of my mouth upturn. I can still see the silhouettes of the trees out the window, but they dim into sleep as the next song begins:
And when you're in the autumn of your years // You'll call me in the night and I'll be near //I love you and I'll let you know I do // I promise you I promise you.
We arrived in Rumney, N. H. in time to watch the light splash it's softest hues of pink down the brick library over which my grandmother's cousin-in-law, Susan, presides.
The village was first settled by farmers in 1765, and was once home to a dozen sawmills, a tannery, and even a ladder factory. While many of the structures still remain, the hustle and bustle has disappeared, leaving the village both charming and quiet.
What little pangs of homesickness I have experienced upon leaving Oregon, were soon quenched as my boots drummed the weathered planks of Jim and Susan's porch. The scent of apples, cinnamon, and butter met me at the door, along with some of the warmest hugs I have ever received.
It was just like going to Grandma's.
Old houses have a spirit about them. They remember the years and the people that pass through them.
Jim and Susan's house was built in 1791. The walls are clad in pale roses and ruffled curtains, and the wooden furniture contains a warmth of its own; tales of lost forrests. A tin kettle rests on the wood cooking stove; songs of meals prepared there. Traces of Susan's china addiction can be found dispersed throughout the downstairs. Accumulated charm.
Up a narrow flight of wooden steps, there are two bedrooms of similar decor and a bathroom complete with a claw-foot bath and a hearty supply of bubbles.
The room I immediately chose was painted pink, with rosey linens and an entire wall of vintage gowns. Walking through the house's wooden halls felt like a trip through the pages of a storybook. I looked for Goldilocks under my bed that night, but was delighted to find that Mom and I had this storybook world, and our dear cousins all to ourselves.
Jim busied himself in the kitchen, sprinkling garlic and white wine over supper like an artist daubing at a canvas. I enjoyed watching him create, from a distance, under a wall-to-celing shelf of familiar cookbooks. My grandmother owns many of the same books.
I left the master to his creation, joining Susan in the dining room to tackle the place setting. Up until then, I had thought only my grandmother shared my somewhat embarrassing love for china. We debated for the entire time it took the pasta to boil over which suit to use, and with which placemats.
"Now, this plate certainly does not pair well with shrimp," She said, flicking her wrist to be sure that she would be taken with the upmost of seriousness. "I won't have it."
She grinned at me before regaining full composure so we could move on to the important topic of silverware.
After a round of fresh bread and artisan cheeses, Jim presented perfectly-pink shrimp in a creamy Alfredo sauce over Linguini.
It was my father's birthday, October 15th. He would have been 49.
The only day I can recall my father ever coming home for lunch was when Jim and Susan were staying with us eight years ago. He loved them so — Jim with his expressive whiskers and mischievous glint; Susan with her She-Who-Must-Be-Obeyed essence shining through her round librarian's glasses.
I wish he could have been there that evening with us, laughing, telling stories, and sharing a meal. Three things he loved the most.
Dinner was followed by dessert in the parlor. The dress code was PJ's. Unfortunately I hadn't brought the appropriate wardrobe for such an occasion, but luckily for me, Susan's guest rooms are fully stocked with bathrobes, fuzzy PJ's, and the like.
Mom chose a yellow dressing gown, while I opted for an oversized pair of blue and white pinstriped pajamas.
After we'd been properly attired, we dove into the much anticipated hot apple crisp and sat visiting around the fire.
I couldn't have felt more at home.
Each night in dreamland we wander along // Telling love stories anew.
Morning
Striped socks; soft with Pandas on the side. A cloud of white comforter with Tasha Tutor's New England collection of poems and short stories. Messy hair. Light flooding the foggy windowpanes, closing in the spaces in the handwoven lace along the gown-strung wall, and the smell of melting butter sneaking under the door. Pancakes maybe?
I'd been awake for quite some time, trying to hang on to the moments between waking and dreaming, the moments where you try to sort tangled cords of both dream and reality, too sleepy to discern which is which. In the end it was the pancakes that pulled me to full consciousness, but even after my plate had been licked clean and my striped PJ's put away, I was certain it was still a dream.
While the day was still a teen, we'd bundled up in wooly hats and scarves and Jim took us for a hike up the mountain that overlooks Rumney. Jim's love of cooking is eclipsed by his appreciation for Mother Nature — a notion that Mom and I wholeheartedly endorse.
It was a steep hike up Rattlesnake Ridge, carved by snowmelt streams and twinkling mica-flecked granite. Gnarled roots stretched their arms across the path of smooth stone and slippery fallen leaves, linking earthy fingers to form a sturdy spiral stairway.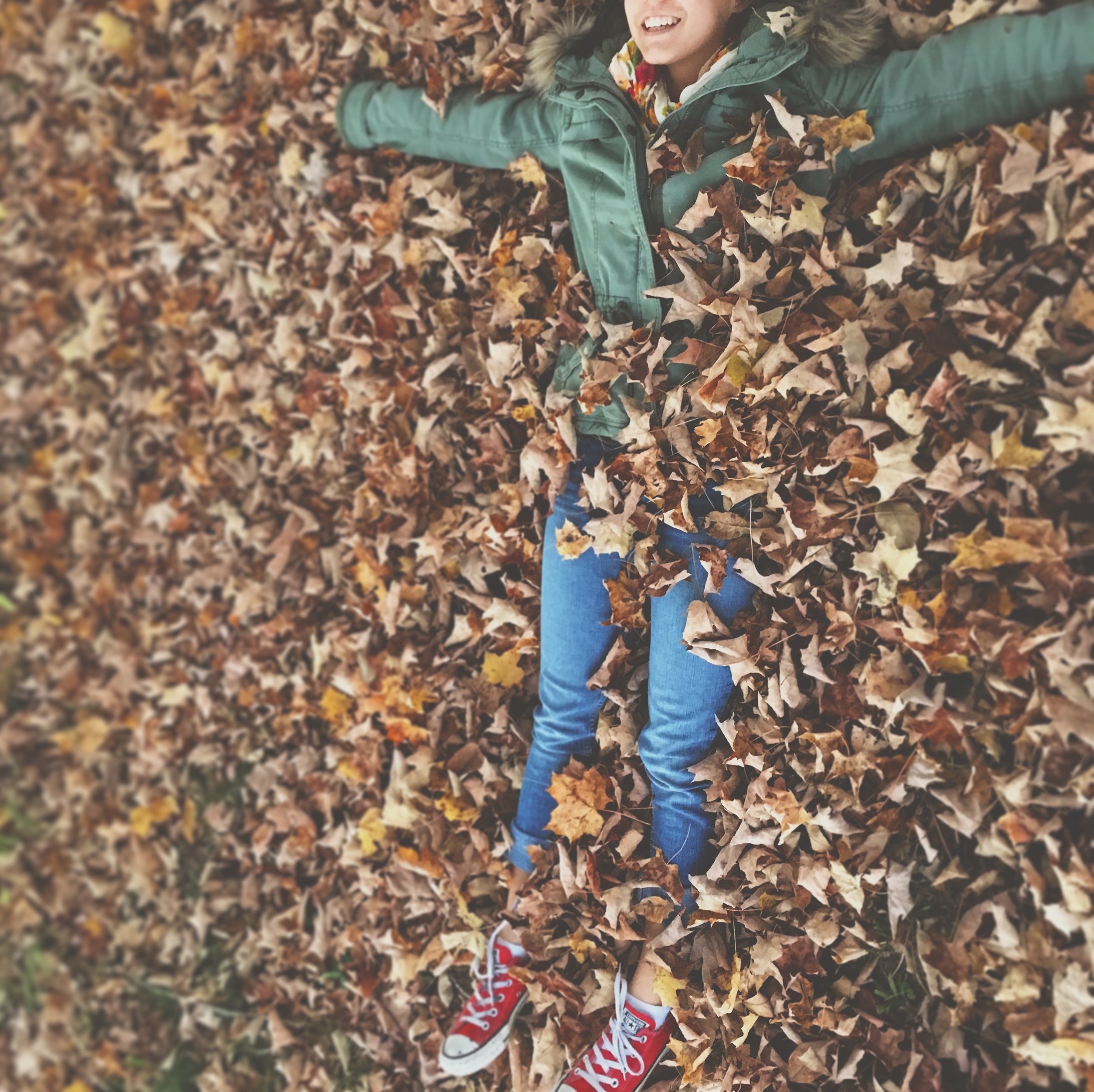 Trees towered over us, letting only the strongest pools of light drip though, but the flurry of buttery leaves that fell created a glimmering light of their own. We waded through their sunshine, kept cool from the autumn air and dark canopy overhead.
When we'd reached the top about an hour later, a sky so blue, and leaves so red made our eyes burn. Light refracted from the slate of granite stone, contrasting with the frothy patches of seafoam-like moss that enveloped tiny vanilla blossoms. We took out our picnic — remnants of bread and cheese from the night before — and nestled into the reclining stone bench time had carved into the mountain.
There were miles and miles of rolling hills, painted in a gradient from buttercream to sangria, and straight below was the village. Plaited stone fences outlined the tidy New England homes, each with a barn connected to the main house by a small covered walkway, and the church steeple offered a humble wave.
"Through there," Jim said, smiling off to the left. "That's our house right there."
We didn't say a lot.
We just were.
Happy in the quiet, sunny moment that we'd been given, only disturbed by the hushed tones of falling leaves and the light praises offered up to God by a Phoebe bird.
What a beautiful thought I am thinking // Concerning a great speckled bird // Remember her name is recorded // On the pages of God's Holy Word.
We stepped from the pages of New Hampshire the next morning, after an afternoon of apple picking and hot cider donuts, another of Jim's artistic meals, and one more perfect morning in the world of Tasha Tudor and the fuzzy panda stockings.
Mom and I were both sad to leave Jim and Susan and the New England world they shared with us, but the snippets of perfect moments strung together with fiery leaves, kindred spirits, and Johnny Cash lyrics, while different, still captured the magical essence of going to Grandma's.