Fall Fashion and New Beginnings
A little update and some fun fall fashion...
Autumn means new beginnings. It's out with the old, and in with the new. Leaves drip from trees, leaving crispy pools of warm colors that turn unto the earthy, sweet smell of fermenting seasons past.
Back home in Oregon on the farm, baby calves are born with glossy pink noses that breathe in that fresh fall air, welcoming promises of new life and new seasons to come.
The fields are put to bed, and a new school year begins, and the children trade their greasy work boots and shovels for shiny new shoes and sharp crayons.
For me, this season has brought more new, and cast more old than any other time in my life. I miss the tiny school where my 23 classmates used to cut out paper pilgrims and turkeys this time of year. But as I push the button for the 20th floor, in the glass high-rise overlooking the Hudson River where I now go to school, I can't help but feel excitement for the new beginnings I am in the process of exploring.
I've been attending NYACK College, where I have been taking Bible classes before I start at fashion school next year.
Outside of school, I have been taking fashion illustration classes in the Garment District to help prepare me for my application process for the college I want to go to next year. I also have picked up a babysitting job where I watch three kids a couple days a week.
I miss my family, and the friends so dear to my heart that they feel like family. Yet, every day when I climb the subway stairs and cross the busy streets through a sea of strangers, I don't feel alone. I don't know their names, but each one has a look of promise on their faces. They are determined and carry purpose in their steps, and that's what ties everyone together.
Almost everyone in New York City was someone else before they got here. Almost everyone came they way I did — with a suitcase full of dreams and a determination to give those dreams a shot.
I miss the stars, and the high desert cold that is both exhilarating and comforting at the same time, but I've fallen in love with the captivating lights that glitter outside my window at night, and I welcome the nicotine-drenched air that fills the streets.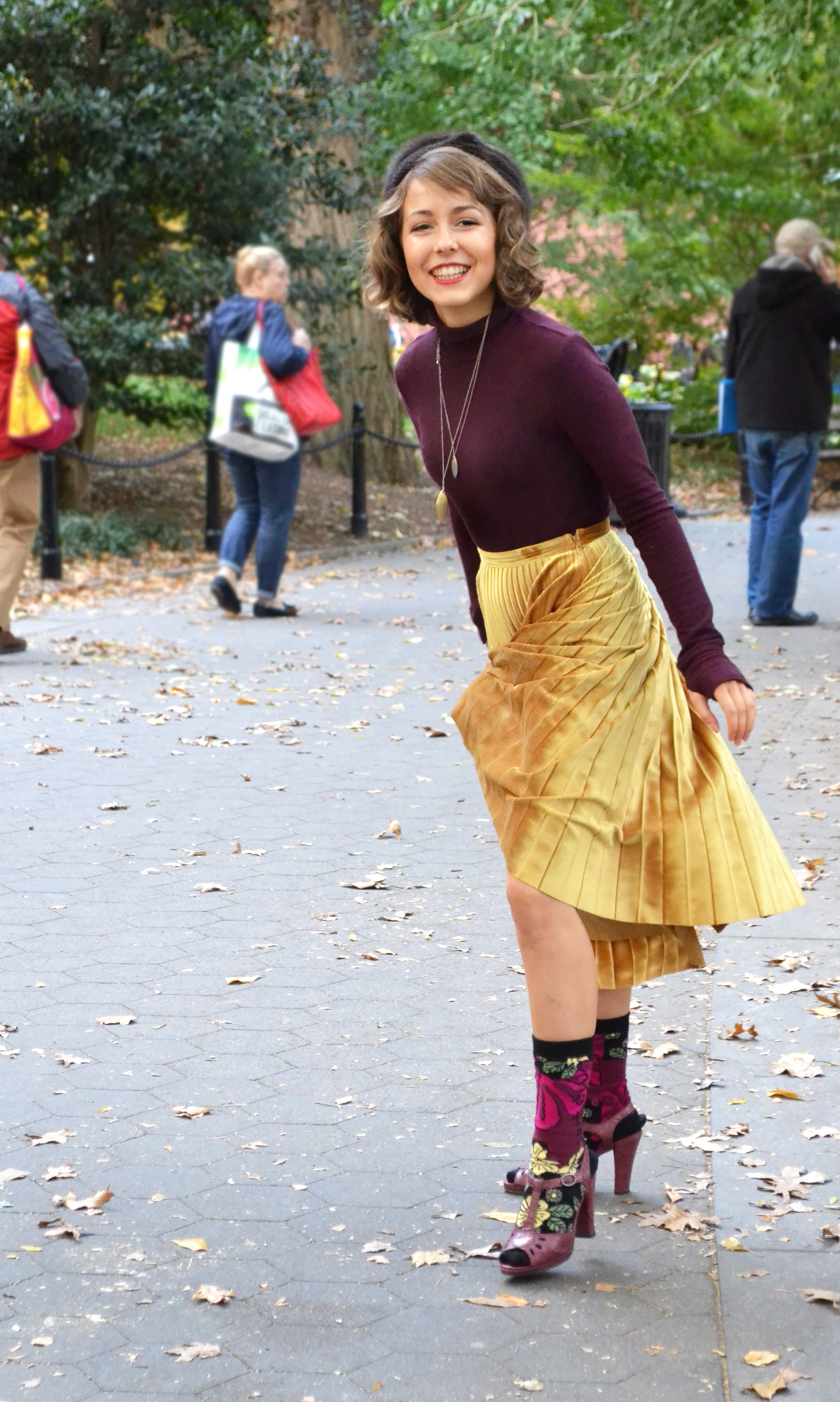 One of my favorite things about New York is that If I feel like wearing striped socks and a floral skirt, why shouldn't I? It's New York -- I've seen people dressed in fairy ball gowns at 10 in the morning, and everyone just walks by them with nary a glance.
Autumn is almost over now. Most of the fallen leaves have crisped to brown, and evergreen trees are lighting up across the city with the anticipation of Christmas. Part of me is sad to see the leaf-lined season and all of its familiarity go, but winter holds many promises of a new season with new exciting adventures too.
And as I watch the dripping leaves being replaced by flurries of snow, I couldn't be more excited to feel the tiny snowflakes dancing on my tongue — my tongue that laughs at the days to come.
Photos:
Best Eats:
Best Street Art:
P.S. This is the day mom and I got interviewed by a Dutch Newspaper!
Check it out HERE.
Until next time!