A Bite of Eiffel
Linn-Benton Community College's 43rd Annual French Banquet
I've been working for the Linn-Benton Community College newspaper, The Commuter, for over a year now, and last week I was assigned to cover the Culinary Art Program's final presentation.
Think white, starched linen table cloths, long pointy-toed shoes tapping on ancient cobblestones, and Parisian music and candlelight dancing off walls and tall windows. Picture striped awnings and golden bow-ties.
Although the eiffel tower was built over five thousand miles away and nearly a century and a half ago, last weekend the Belle Époque era was brought right to Albany's very own Linn-Benton Community College (LBCC).
On Thursday, May 26 and Friday, May 27 at 6:30 p.m., the LBCC Culinary Arts program served an eight-course masterpiece to hundreds of community members as a test of the graduates' accumulation of skills and a celebration of French cuisine.
The 43-year-old tradition has become a well attended and much anticipated event.
"My parents have been coming for over a decade now," said Lesley Tylczak. "We just have to keep coming back. It's a great thing to bring friends to; especially friends that you want to introduce to other friends."
Tylczak smiled at her table of friends from various circles of her life. "It's a great way to bring people together."
After being seated at a private table by first year students, guests were welcomed by a sparkling 12 piece table setting and the Amuse course — a polite, yet bold little baguette point topped with beet gravlax and champagne vinegar goat cheese.
What modesty was presented in the Amuse was soon overtaken as the servers delivered the "Fish" course. This dish consisted of a wave-shaped cracker standing upright in a bed of billowing salmon mousse, cool sorrel-almond puree, and pickled red grapes that "pop" with every bite. Butter-poached shrimp curled over the even curves in the handmade cracker, adding not only height to the dish, but also a crisp pinkness to the otherwise neutral colored plate. Tiny legumes spilled over the sides with edible pansies smiling up from the base, and one couldn't help but marvel at the both creamy and crisp elements of the dish.
People laughed over their wine glasses as the warm sensation of food, drink, and community passed over the room.
After the wine glasses had been refilled and the towering shrimp dish had been reduced to pastel swirls on white china, the soup course came out. The celery root soup hinted at roasted garlic and truffle oil and tasted of spring. Though humble in appearance in comparison to its predecessor, it's velvet composition and nutty aroma made one long for more.
Next baskets of fresh bread in pastel linens were brought out with the Charcuterie course. Pickled carrots and asparagus added a sharp balance to the soft pink cured meats, sophisticated swirls of pork butter, and airy blue cheese mousse. The rye bread was dark, but sweet, and the brioche was golden and cloudlike. From the illusive pistachios in the pâté to the delicate crust around the galantine, this course offered subtle details that overall blended well together.
As custom, the pre-entree course was the palette cleanser. The Intermezzo course consisted of a grapefruit sorbet over raspberry coulis served in chilled glasses. The bitterness of the grapefruit seemed to soak up the sweetness of the sauce in a very separate, yet intended manner, the way a breeze cools you down on an otherwise too-hot day.
The wine kept flowing and the diners kept laughing, eyes wide as they experienced new flavors.
Finally, after five courses of prep, the main entree arrived. A creamy bean puree served as a decadent foil for a nest of pulled duck confit over a tart cherry sauce, topped with a frilled bullseye radish chip. Fresh herbs, boozy cherries, and a smoky undertone offered hidden flavors in every bite.
But wait, there's more. Two courses more to be exact.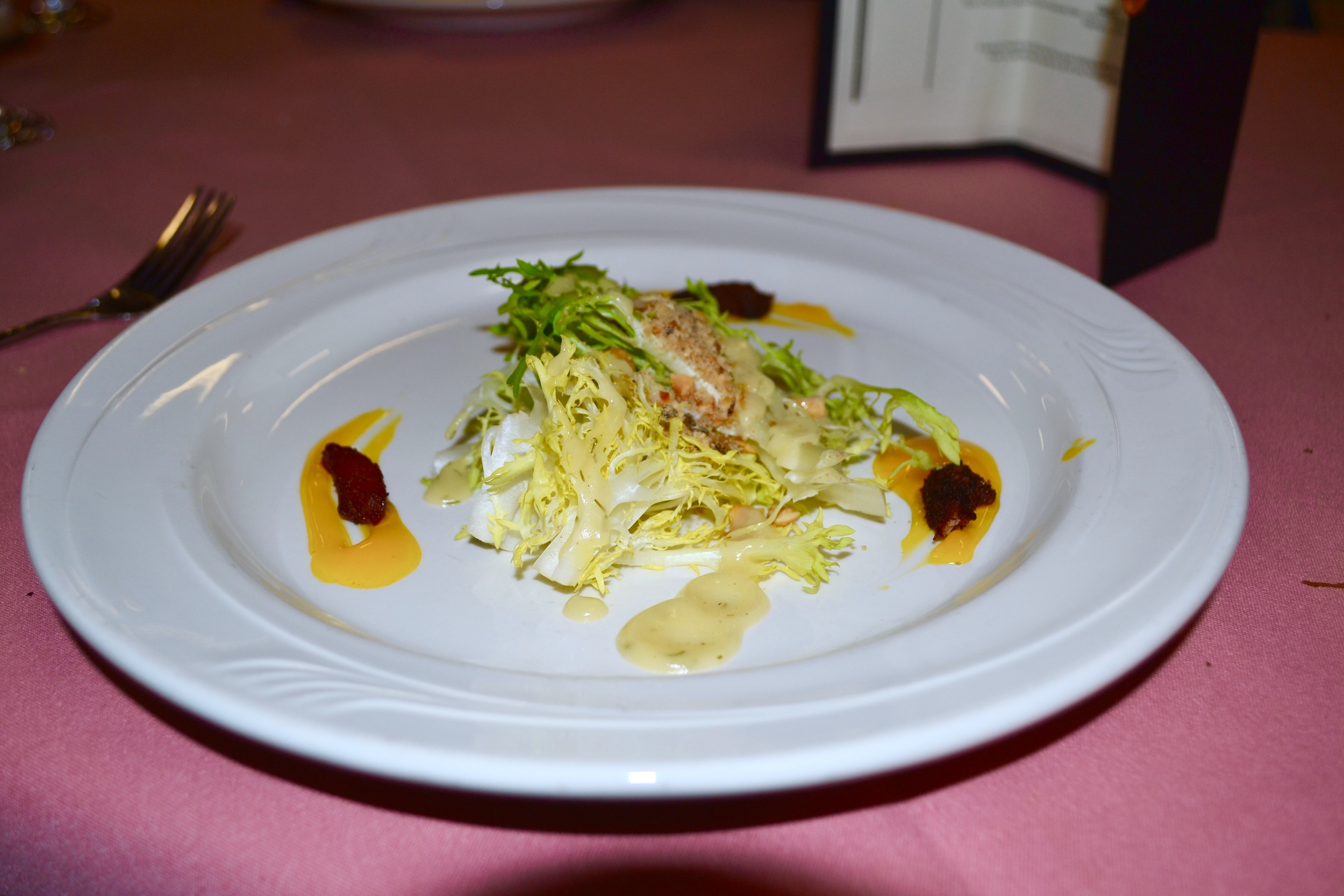 Next came the salad. At a traditional French Banquet, the salads are served toward the end of the meal. This course featured light bitter greens tossed with candied hazelnuts and dill dressing. The salad was framed by four bright streaks of sou vide egg yolks with thick sweet and smokey bacon cutlets, adding a rich balance to the dish.
With seven courses down, diners sighed sappy smiles and the laughter died down into occasional bubbles as bellies were satisfied and the night wore on.
If one were to close their eyes and the windows had been opened, it would have been easy to imagine the cool air all around as purely Parisian.
"I loved the whole atmosphere," said Mary Reggington, mother to second year student Gage Reddington. "It's the second year we've come. We just love it."
The spell was lifted as the second year students, pride spilling out from under their chef hats, started filing out of the kitchen.
A dessert plate in hand.
Sleepy diners sat up tall in their seats, grinning from ear to ear as they applauded the graduates.
They entire team stood in line while Sous of Banquet Lucas Pschiet gave special thanks to the many people who made the 43rd annual French Banquet come together.
"I especially want to thank the first year students and our executive chefs," said Pschiet. "We couldn't have done this without you."
After much applause and a few tears from proud parents, it was time to dig into the final course.
Soft spheres of raspberry mousse and boozy orange marnier mascarpone sandwiched between two firm dark chocolate discs topped with fresh raspberries came on a small plate dusted with red velvet crumbles and edible glitter flakes.
A couple friends laughed over what seemed to be licked-clean plates, chirping up when asked about the highlight of the meal.
"I don't usually eat chocolate, but the dessert was my favorite," said Lesley Tylczak.
Her friend, Kenna Warsinske, agreed.
"I don't usually tweet chocolate, but I definitely tweeted that."
Assistant Sous of Banquet Gage Reddington was pleased with how well the menu came together to showcase the entire team's passions.
"It was cool to see such a broad contribution of ideas," said Reddington. "The largest struggle was planning the presentation. Lucas Pschiet and I met every Friday for five weeks to work on plating."
The second year students took away a tremendous sense of pride in their accomplishment, but the first year students benefited as well.
Many of the first year students served in the dining hall and assisted behind the scenes. Mallory Mateny, who aspires to own her own catering business, had the opportunity to help plate desserts.
"It was fun to see how well everyone worked together. Everyone had their job, and it was such a nice energy," said Mateny. "I hope all of the first year students get an opportunity to work together as a team like that. We get to take all of this learning and put it towards next year's banquet."
Having played a major role in baking bread for the event, Ariel Rapport, who just took first place in her pastry class at LBCC, had the opportunity to experience the event as a diner with her mother, Jacqueline Arante, and sister, Lily Rapport.
"After hearing about the last minute tweaks and changes from fellow classmates, I was dying to see the final product," said Rapport. "It's so gratifying to see something that you've made all come together."
Rapport's mother, Jacqueline Arante, was impressed with the authenticity of the meal. Arante is of French heritage, and visits France often.
"In Europe we don't eat large portions," said Arante. "You can have so much more variety that way."
And variety there was. From a humble baguette crisp to the showstopping dessert course, each bite was a cultural experience.