Day 2: Waffles, Ghost Towns, and Impromptu Concerts
When: Sunday, August 14
Where: Bend, Ore. to Meecham Ore.
Miles Traveled: 310
Best Thing We Ate: Homemade Huckleberry Ice Cream
The smell of golden butter and fresh mint crept under my bedroom door, filling my dreams with the little forts I used to make in my father's wheat field on the hill behind my the house I grew up in.
I lingered in those moments for a while before the scent of Gary's famous waffles and the light pink rays of morning wrapped around me, pulling me from sleep.
Mom and I had stayed the night at her best childhood friend's house that night in Bend, Ore. Gary and Leah are always fun to stay with because no matter how long it's been since we've seen them, we always pick up right where we left off — and it doesn't hurt that Gary is a gourmet cook.
After I'd licked the last of my freshly made mint-apricot syrup from my plate and Gary had nestled a jar for the road in the car, we were on the road again, headed for Meecham, Ore.
A few hours into our drive we came to a little ghost town called Shaniko (population 36). When I saw the western-style false storefronts on the teetering buildings and the empty hitching posts I couldn't help looking around for John Wayne. It was unanimously decided that Shaniko needed to be properly scoped-out.
Mom had been there once with her grandfather when she was a little girl. Apparently it looked about the same now as it did then. There was an ice cream shop, a post office, a bank, an antique store, and a towering hotel that had once served as a transportation hub for the Columbia Southern Railway.
Shaniko was established din 1862 when gold was found in the surrounding area. The town has a raging history of gunfights and gold heists and turmoil between native Americans and the english settlers.
In 1901 the then with largest city in the county was marketing over 4 million founds of wool, naming it the "wool capital of the world."
The development of more efficient transpiration and technology led to the fall of Shaniko in the 1930's, and the entire line was shut down by 1966.
Although most of the little western buildings were vacant, there was a little green "treasure shop" sitting on the end of the row, with crusty maroon trim and a big "Everything Must Go" sign written by shaky hands. The little cow figurines and slabs of petrified wood sitting in the window drew me right in.
The "treasure shop," as I decided to call it, had everything from Glen Campbell records to a little used tool-kit. It was packed from floor to ceiling with old t-shirts decorated with fairies and wolves and the like. There were mood rings and top ramen packets and even a stack of egg cartons for 25 cents a pop. There were too many treasures to choose just one, so I wished the silver-haired lady playing suduko in the back a lovely day and we left.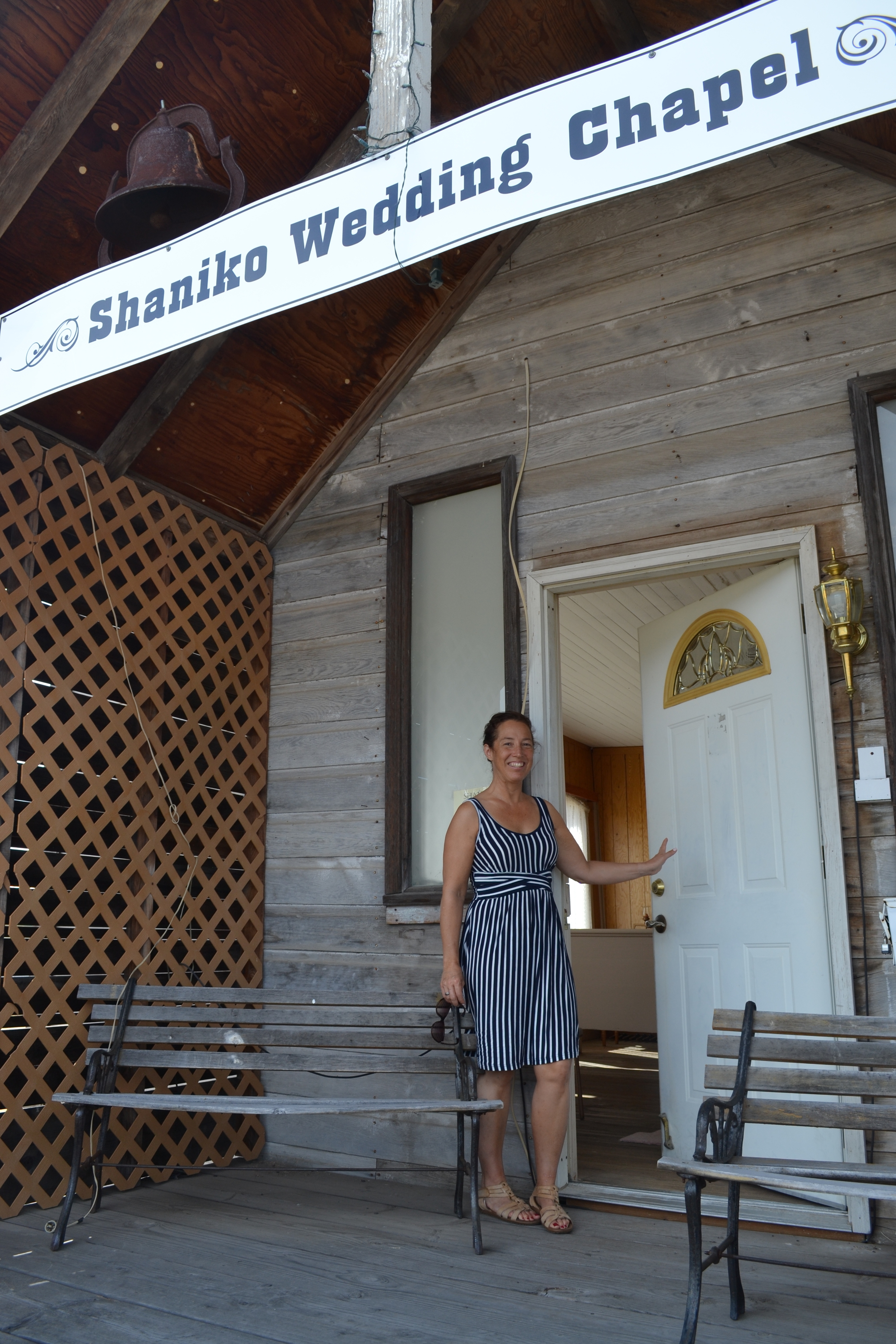 Another hour or so and a few tummy-rumbles up the road, we came to Grass Valley. The little desert town was efflorescent with hollyhocks and mini sunflowers, so naturally it was decided that the ambiance would be perfect for a Sunday afternoon bite.
We skipped into a cafe about the size of a McDonalds bathroom, and took our seats at the bar. It smelled like fresh cut bacon and toasted buns. An older man with sparkly eyes and a scruffy beard wheeled up to the counter with a couple of menus and before I knew it the three of us were talking like old friends.
His greatest love is for flying, after his wife and their five kids, two of which are named Matt, and another two named Chris.
I can only imagine how confused Santa must have been.
My heart sped up as he told of airplane rides gone bad and burger juice ran down my arm.
"And then there as the time I chased my wife," He said.
His wife, a sturdy woman at the corner grinned over the silverware she was rolling.
Apparently she had recognized the sound of his plane coming close to home, and running out to meet him, she ended up on the wrong end of their home and the 17-acre field in front of it.
"Of course I could hear everything he and his buddy were saying…" She rolled her eyes at her chuckling husband.
"She didn't think it was nearly as funny as I did," He said.
We laughed over more stories of road trips with the five kids, his wheelchair, and the two of them all squashed into a little sedan.
"How on Earth did you get them to behave?" I asked, stuffing the last piece of thick bacon into my mouth.
"It only took one time," He started. Apparently they started mouthing off one time so they pulled into a rest stop where he made them run laps.
"How long did you make them run?" I asked.
"Till I got bored," He said. "After that, if they started whining, I'd just look around like I was looking for a place for them to run and, funny thing was, it would quiet real quick."
I told him I was going to take notes!
Soon enough we were back on the road and I was enjoying me some Johnny Cash and the 70 mph speed limit on Hwy 84 toward Pendleton.
It worked out that I "just happened to need to use the bathroom," and the Pendleton Woolen Mill "just happened" to be on the right… and I may have "just happened" to come back out to the car with a garment bag…
But we musn't speak of such things.
We arrived at Ronda's (the saint who goes on all my adventures with me and is basically my other mother) in Meecham (population 77) around 3 p.m., after Siri took us down "Main St." the back way, down a dirt road, across a small creek, past some pink flamingos, and over some railroad tracks.
Good thing we have a Jeep, right?
Ronda, her husband, Lon, and her son, Landon, age 14, live in a 1880's railroad hotel surrounded by little cabins and trails that they rent our for retreats.
Meecham started as a little hub for the Union Pacific Railroad around the 1850's. The town was even declared the capital of the United States for a day in 1923 when President Warren G. Harding was in town for a commemoration celebration of the Oregon Trail for the Fourth of July.
I spent the rest of the afternoon chatting with some of Ronda's friends and thinking through their forest with Landon.
I had a great visit with Ronda's friend Joe about his life and adventures. When he was my age, he was traveling all over the world in the service.
"What's your favorite place you've ever been?" I asked.
"I don't know," He said. He looked down at his calloused hands from under his white Stetson. "I saw so many things, but at 17-years-old I didn't know what I was looking at."
That night Ronda took mom and I into Pendleton to crash one of Lon and Landon's music rehearsals for a big summer festival coming up soon. We squished into a living room corner around a circle of about a dozen people from ages ten to 70 playing fiddles, banjos, and even a giant double bass. I watched with wide eyes as they tapped their feet and moved their fingers up and down the strings, picking, and thrumming, and sawing.
It was beautiful. Had there been more space in the room, I wound have started dancing.
Our private concert was topped off with fresh huckleberry ice cream and more conversation with new friends.
When I finally crawled into bed in "Room Four" at Ronda's house that night the whole day spun around in my mind.
I thought about the man at the cafe and how his eyes lit up when he talked about flying, and I asked myself where I would be if I were in his shoes, or rather, his chair. Despite his circumstances, here he was working in a cafe waiting tables and flying airplanes across the west.
I want to live like that.
The last thing that thought about before giving in to more dreams of wheat fields and airplanes and wooden fiddles was the young boy who had been around the world without understanding what he'd seen.
I want to look at the world around me and see God's brushstrokes in all of it. I don't want to overlook the people or the heritage from which they are carved. I don't want to underappreciate a jagged landscape marred by battle or fail to understand the lessons that were drained from those blood-stained fields.
I want to know what I'm looking at.
And I want to run laps around it in my mind until it's time to squeeze into the car and be off to the next adventure.