No Place Like Home for the Holidays
High Desert Morning in December
Waking to the sound of nothing. Nothing, a dry calm void pounding in my ears. No wailing of sirens, no whispering of subways, no barking of dachshunds. Waking to the sight of nothing — my own hand appearing black before my face. It's completely quiet and immensely dark. Two things I haven't experienced for nearly five months.
Morning has crept in from the East, but stars still peek out from the smoke-like clouds that hang over the Central Oregon Desert. My brother and his wife are asleep in the next room and the German Shepard on the porch is dead to the world. The only sign of life comes drifting from the kitchen.
Coffee.
Drip. Drip. Drip.
My bare feet kiss the cool wooden floor, every board of which had been placed with the care of a craftsman by my father. I reach for my wool socks and tiptoe into the dining room where the last embers form last night's fire glow red in the ashes. Red, the color of the sun, stretching his first ray above the horizon, bidding me a happy morning.
I wave back.
Soon the stars are called to bed by their mothers and the clouds are painted pink before burning into blue. Blue, the color of the stray bird stopped in the yard for breakfast before completing his journey south.
I slip on my brother's jacket and remove my cowboy boots from the closet, closing the door softly on my way outside. Dust falls from my boots in my first steps, and I offer a light apology for their abandonment, their leather warm on my skin.
I find a welcoming spot on the dry-stacked stone fence in the yard and have a seat. It's still quiet, but the thick blanket of snow and the intensity of the sky are the antithesis of dark. Yellow seeps from the empty spaces between tree branches, fences, and cracks in the horizon, coating the whole world in soft butter.
Arlington, VA -- Mom and I spent Christmas with my Uncle Walt and his wife, Pam, at their home in Virginia. We rode the train into D.C. from Manhattan and spent a few days wandering about the area and enjoying time spent with family.
Walt is my favorite uncle, and my other uncles know it it. He takes me out to dinners that I can dress up for, and sends me a birthday card every single year. Apart from that, he shares my love of artichokes, and even made me a breakfast casserole with artichoke hearts in it. Sorry Uncle Stephen, Dan, and Robbie… There's no hope for you guys.
"This is the first thing he's ever cooked in our seventeen years of being together," Pam said. It was a sentiment of Miles love language that few other gifts could compare to.
A highlight of my Virginia trip was trotting around old Georgetown like a good and proper tourist. I ate seafood from a bucket and snapped photos incessantly of colonial-style doorways that had been decorated with fresh fruit for the holidays — a tradition that traces back to the early 1920s when Christmas was growing in significance and the Colonial Revival was pulling decorative impulses back from the eighteenth century.
West Bound
The day after Christmas, mom rode back into New York and I traveled on to Oregon with Uncle Walt to surprise my grandparents (all of whom, had been laying the guilt trip on me for weeks). While I was mostly excited to see my family, I couldn't help but acknowledge the pang of joy in my heart as I spotted a dozen black dots from my window seat in the small airplane above Redmond, Ore.
"Cows!"
What really made me feel at home was the first order of business upon landing in Redmond. The urgent notification on my uncle's phone when we landed was a text from my second brother, Andrew. "Can you pick up some 22 shells on the way home?"
I wasn't in New York City anymore.
My heart was filled to the brim over the next five days as I tried to fill every moment with the comforts of home — oatmeal with raisins with Grandpa Roth, sewing pjs with Grandma Miles, and laughing endlessly at Great Uncle Roger's stories from his days as DEA agent.
There was some excitement when my brother's stove caught on fire and the door fell off, but what is a day with Daniel without some excitement?
What caused an even greater stir was when Uncle Roger came back from a morning of hunting with an Elk ready to string up. The four Miles men circled around the animal had it successfully de-robed in a matter of minutes.
I definitely wasn't in New York City anymore.
On South to Paisley
Paisley, Ore -- A notable add-on to the trip was a 50 minute drive south to a tiny middle-of-nowhere town where I spent 24 hours with Julia & Ashley O'leary and Lizzie Hyde. The four of us girls grew up on the desert riding horses, shooting rabbits, and working with dirt under our fingernails. What is so beautiful about my dear Paisley friends, is that while they look sensational in Wranglers, they can come in from the farm, throw on a dress, and turn out an English high tea--in 20 minutes flat-- with the grace and class of the Queen herself.
On the morning before I left, we dressed in Ashley's fabulous selection of vintage clothes and made the trek across town (population 326) with our cowboy boots on and high heels dangling from our fingers. We'd almost reached Lizzie's house, when a sagacious Paisley inhabitant pulled his truck up beside us.
He rolled down the window and opined, "If we didn't need them for breeding purposes, I'd kill the whole lot of those teenage boys 'round here," He spit tobacco into his Pepsi bottle. Apparently the young cowboys had been terrorizing his property again. "Oh and Ashley, I sure like those shoes!" And with that, he rolled on his merry way.
Time for Tea
The Hyde Residence -- We adorned Lizzie's grandmother's blue and white china with her famous Caprese Salad, grapefruit wedges, rum truffles, and flowers. Ashley poured the tea. Sinatra provided the entertainment. At the mention of chocolates, Lizzie's little brothers (who I'd seen poking at something dead in the yard moments before) decided to join, waltzing in with their ties and rising each time one us us ladies took to our feet.
"You have to stand when a girl does," Lizzie's youngest brother whispered to the other. "That's how they do it on Downtown Abbey."
After a wonderful party fit for Royalty, we discussed everything from country music to the meaning of life while the girls drove me back to Silver Lake. Lizzie's mini cooper hummed quietly as the snow fell. It was a perfect conclusion to a wonderful trip back to Oregon.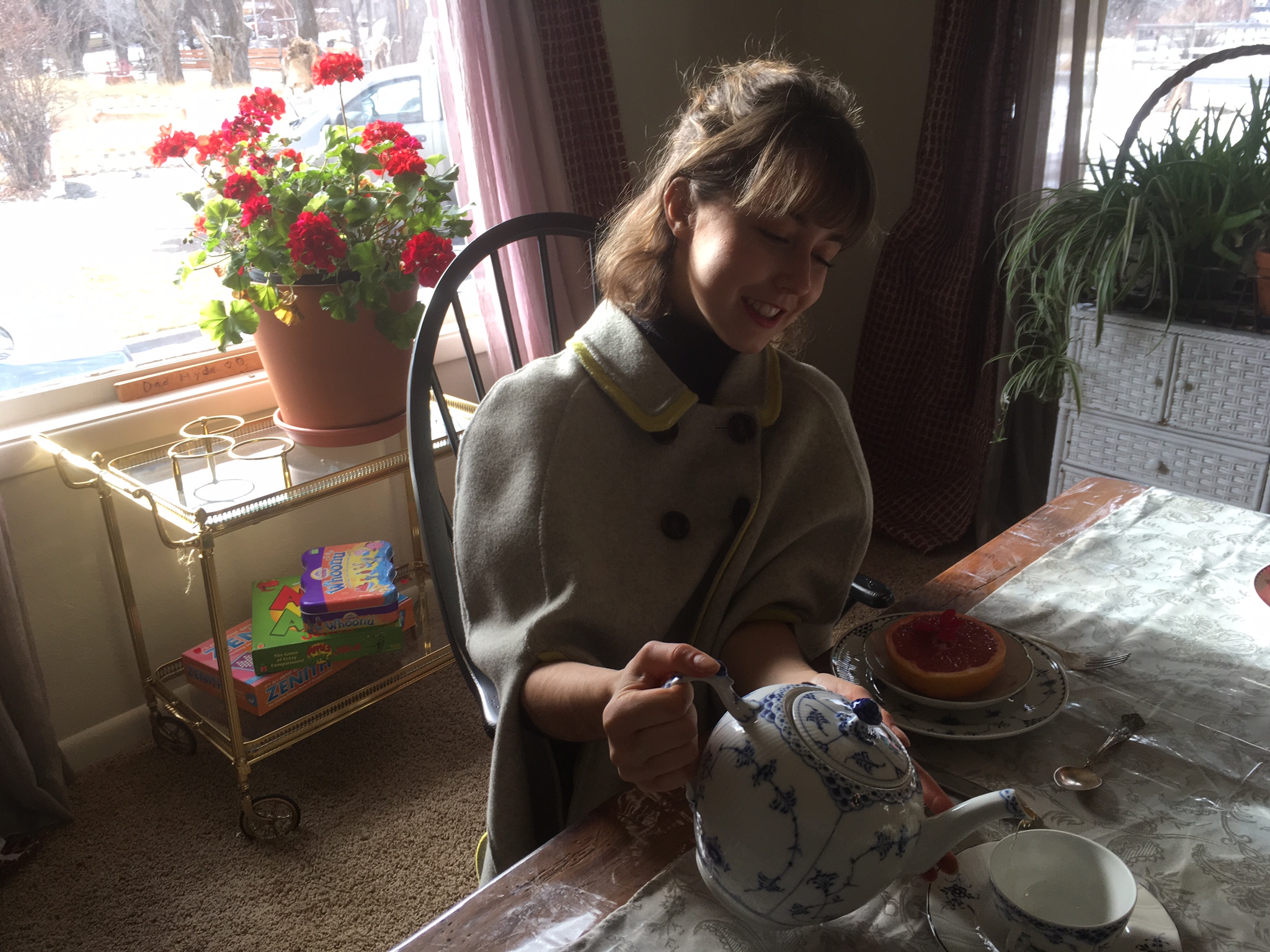 Silver Lake, Ore. -- I packed my things. I'd brought a suitcase full of presents that was now empty. I'd meant to bring it back to New York full of frozen beef from the farm, but I'd made the mistake of looking in my vintage clothes bin in the attic. The meat would have to wait.
The goodbyes were tough. Especially when it came to the grandparents. It was then that I knew just how blessed I am to have people in my life that make saying goodbye to hard. It was then that I knew that while New York is home to me now, the people and the memories I cherish are what "going home" will always be.