An International Friendsgiving
When the Thanksgivings of childhood are long gone, the opportunity to make new memories and new traditions pose an equally exciting gift.
Thursday, in my little 1970's basement apartment in New York City, two thousand miles from the traditions I have come to know, my heart was filled just as full as it's ever been on a Thanksgiving Day.
A lot comes to mind when I hear "Thanksgiving" mentioned.
It was a always a favorite day in our household, and remembered in perpetuity as the only day of the year that my father stopped working to eat lunch. Grandma Lois brought Jello salad and pumpkin pie. My great-aunt Pat brought spontaneous mixtures of whatever she felt like whipping up that day, and Great-Uncle Roger brought his unfailing orneriness easily identified in his twinkly blue eyes.
In an effort to keep us out of mom's kitchen (i.e. the buttery crescent rolls!), Dad would take us kids up on the hill to cut firewood. I can still smell the fresh cut Juniper and feel it's sugary sap on my fingers. I hear the soft rumble of the 1960's feed truck, and the battered Ian Tyson cassette tapes that played as we worked.
After working up a real appetite, we gathered around the long black walnut table our neighbor built, Grandpa Harold said Grace, and the annual debate of whether food is passed to the left or right would commence. If I finished eating quickly, I could disappear under the table unnoticed in time for Uncle Roger to end up with his shoe laces tied around a table leg.
Other memories stand out from those times. Laughter mostly. I remember Aunt Pat's stories about gunslingers, grizzly bears, and her own tomato juice can hair curlers. I remember Uncle Roger's stories from his days as a long-haired, smelly, undercover-DEA agent, and Grandpa Harold's occasional tale from his days as a young cowboy. I remember wondering if he was the reason they put the word "wild" in the last days of Oregon's "Wild West."
Most of all, I can remember that feeling of "together." I remember that all-consuming warmth brought on by the deep kind of gratitude that forces you to take stock of all that you've been blessed with.
Life happens and you can't always go back to the way things were in your memories, but that's ok. Although those Thanksgivings from my childhood are long gone, the opportunity to make new memories and new traditions pose an equally exciting gift.
Yesterday, in my little 1970's basement apartment in New York City, two thousand miles from Aunt Pat's stories or Uncle Roger's shoe laces, my heart was filled just as full as it's ever been on a Thanksgiving Day.
In the past week of classes, as people were talking about their Thanksgiving plans, It was easy to see that while most students were traveling home to eat turkey with their families, many international students were left without plans or even an idea of what Thanksgiving is.
So a few days ago my friend Tiffany and I decided to throw our own little Friendsgiving at my place so that we could all make the most of being away from our families, and everyone would be able to experience a real American Thanksgiving.
Tiffany and her family immigrated to America from China when she was seven, so she'd never celebrated Thanksgiving before. I've been promising her baking lessons so this seemed like the perfect opportunity. We invited everyone from our classes who didn't have plans and came up with a menu.
I was in charge of the American spread, she was going to tackle the baking, and everyone else signed up to bring dishes from their home countries.
Tiffany and Julia, our classmate from Taiwan, came over around one to start getting ready. Tiffany is an efficient worker bee, with legs for days that are always dressed in pink and/or ruffles, and Julia, with her neatly cropped hair and sweet smile is the soft-hearted kind of person who thinks of everything. The perfect party-planning duo. I gave Tiffany a T-shirt to wear over her frilly dress and we got to work. The pie came first, and we had to laugh at the horror on Tiffany's face as we dumped the can of pumpkin puree into the mixture. Apparently canned pumpkin doesn't make its way into many Asian supermarketers. "What is this??"
We put the pie into the oven with the turkey, and when it was perfectly set, we swapped it out for an apple crisp — both girls peered curiously through the oven glass, as if looking at a strange creature at the zoo.
We talked and laughed as we peeled sweet potatoes and thickened the gravy. Tiffany talked about mostly eating sweet potatoes in porridge, and Julia added that in Taiwan there's no such thing as mashed potatoes. "We roast them whole."
Next was my turn to be intrigued. Julia brought two kinds of pork dumplings. They fried up half the batch and then wanted the other half to be steamed. While commonplace in Julia and Tiffany's kitchen, we had to get creative with our steaming receptacle, securing a metal colander to my stewpot.
We obliged ourselves to a round of quality control, and I let my very first Chinese dumpling melt in my mouth, starting with the soft doughy coating and ending with a the melded meat and seasoning filling with hints of green onion and ginger. What a perfect way to get ready for a Thanksgiving feast!
The sun went off to sleep and our guests started to arrive. First came Ana in her floral Doc Martins and freshly dyed pink hair. Ana is a Fashion Business Merchandising (FBM) major from Paraguay and pretty much the epitome of "cool."
Next I ran out to meet Hye, from Korea, who I met in my illustration class. She doesn't talk a lot, but the joy that exudes out of her will put you in the best mood of your entire week. I didn't see her at first, because she was hidden behind a little crowd of black-clad youth who appeared from around the corner wearing fur-trimmed hoods and carrying crisp leather bags. Unmistakably Fashion students.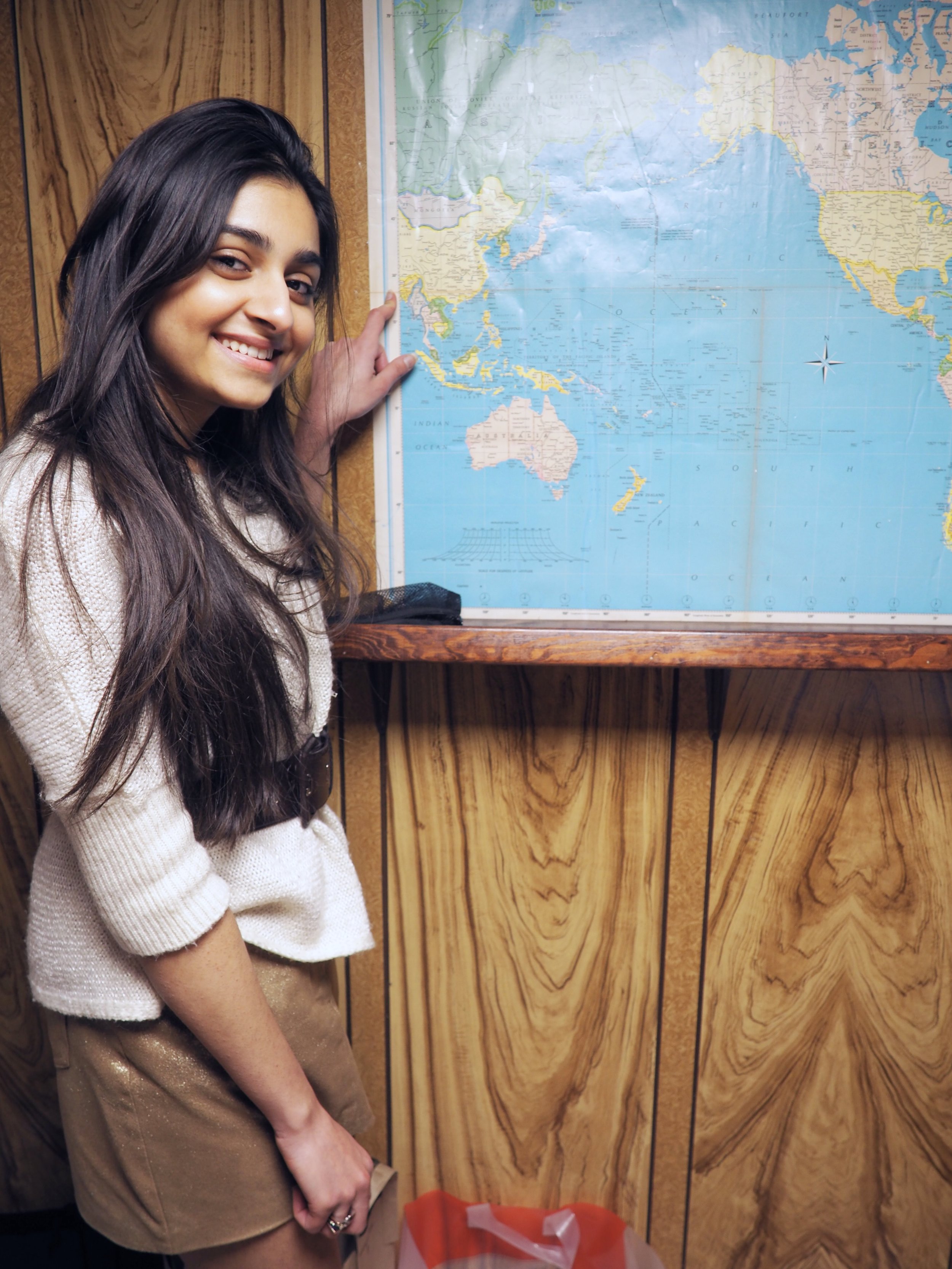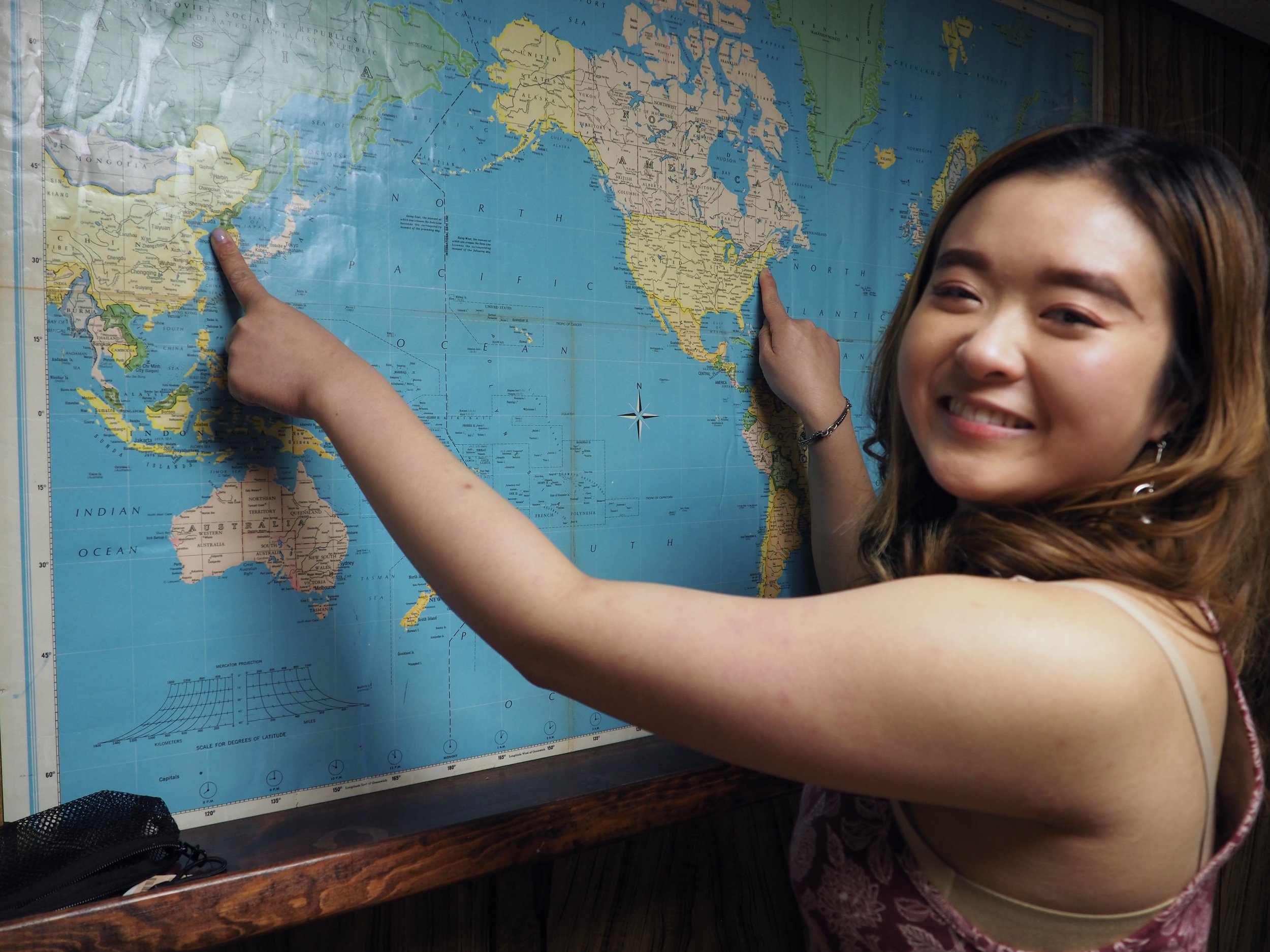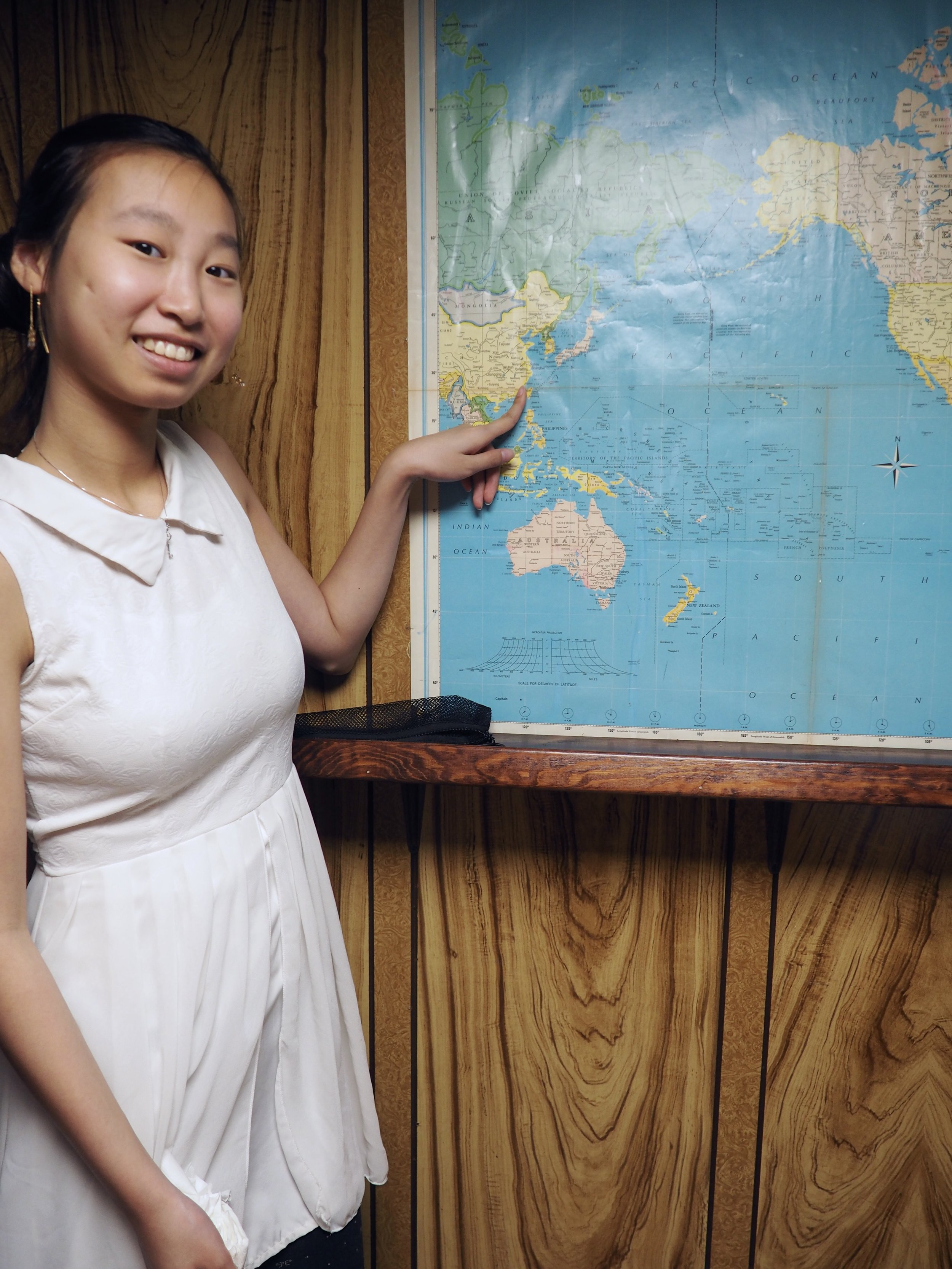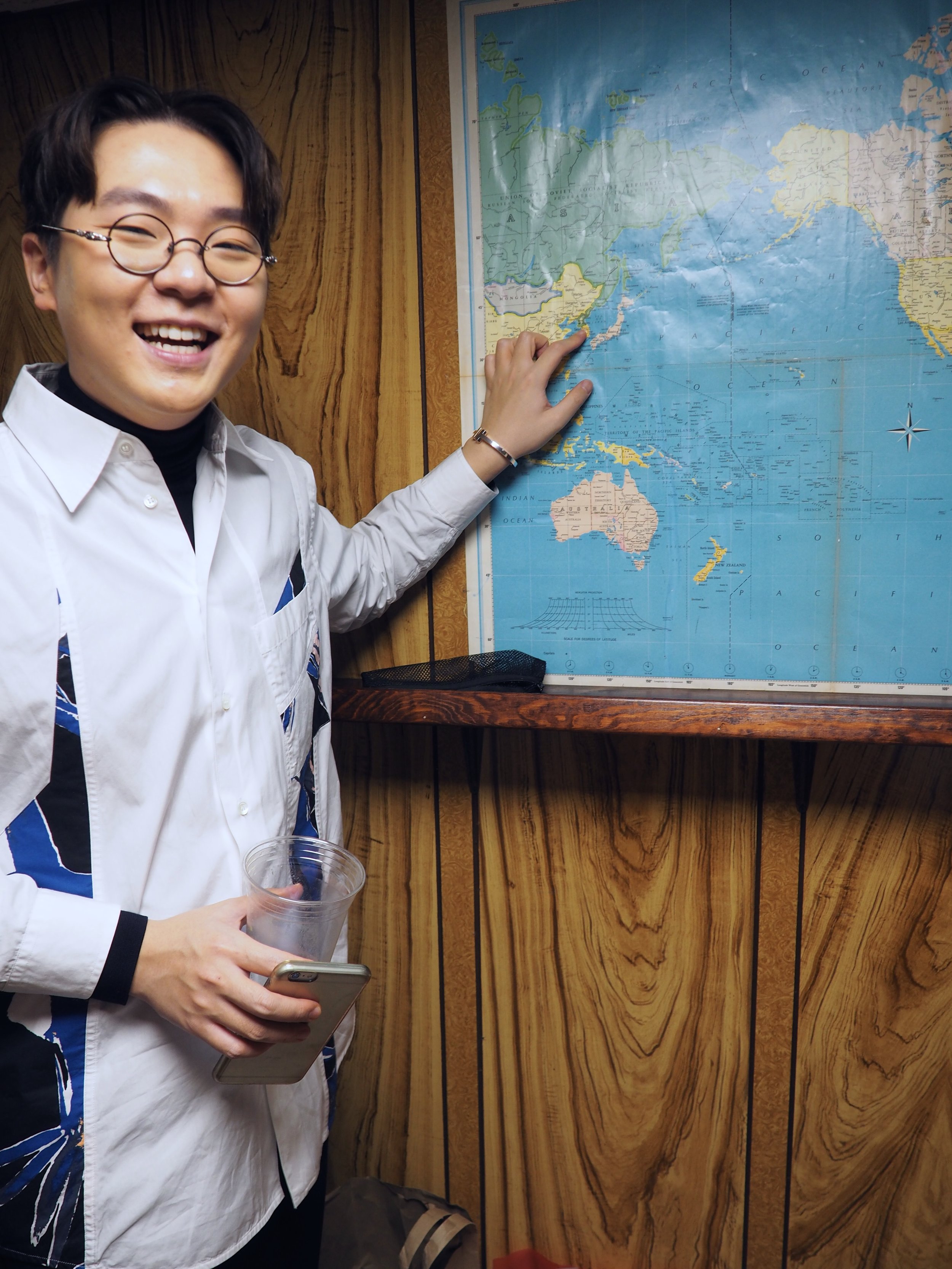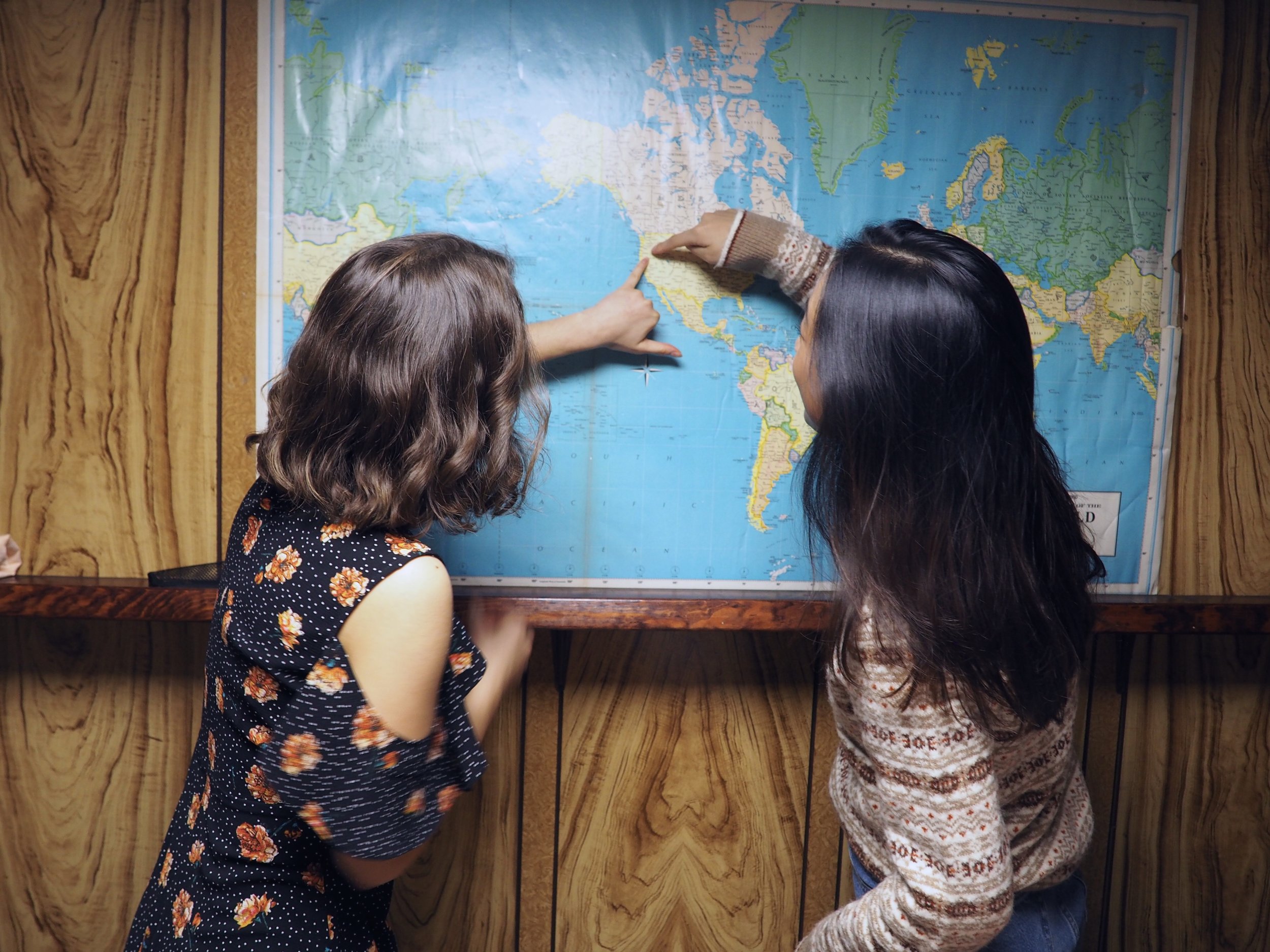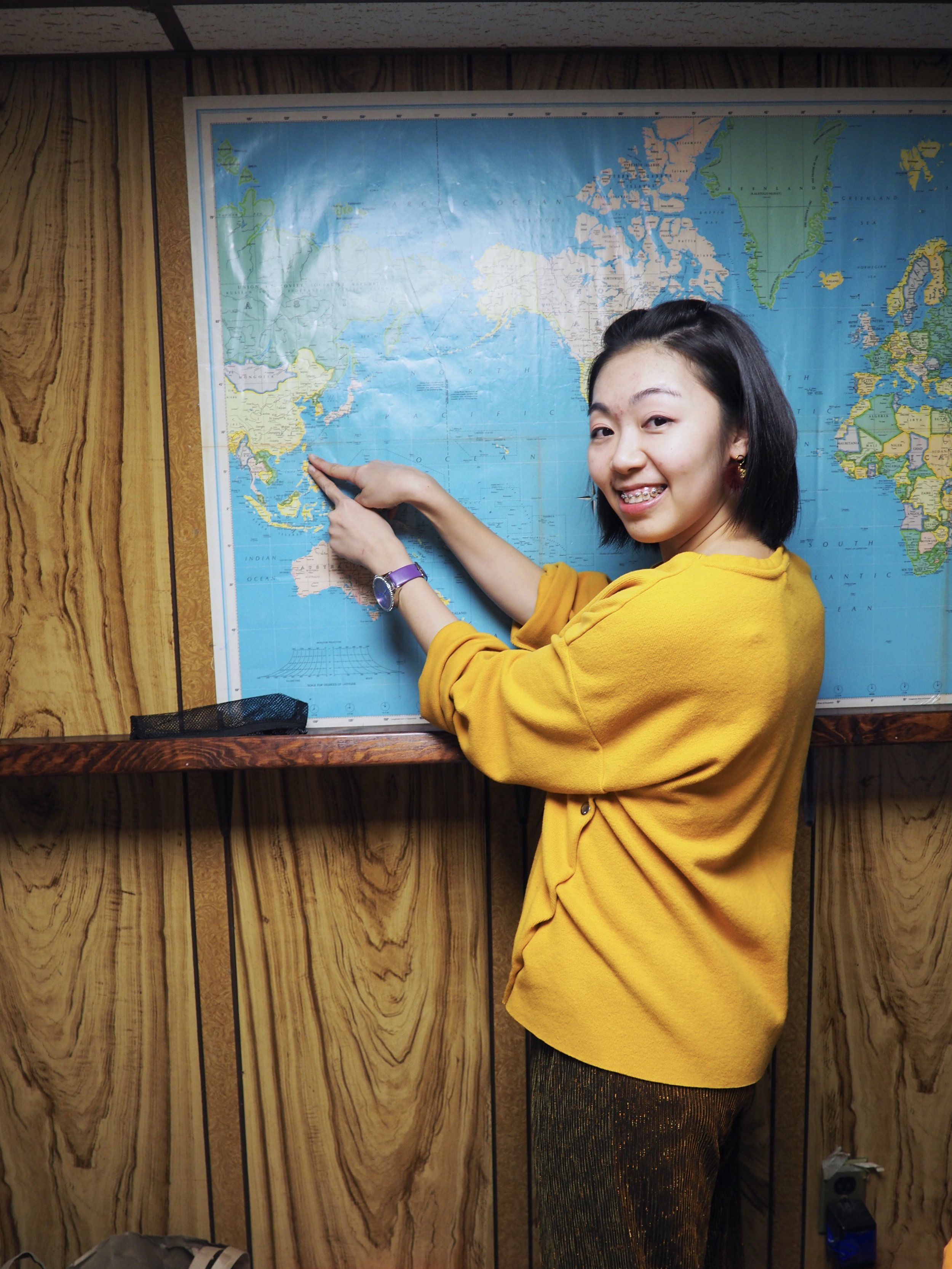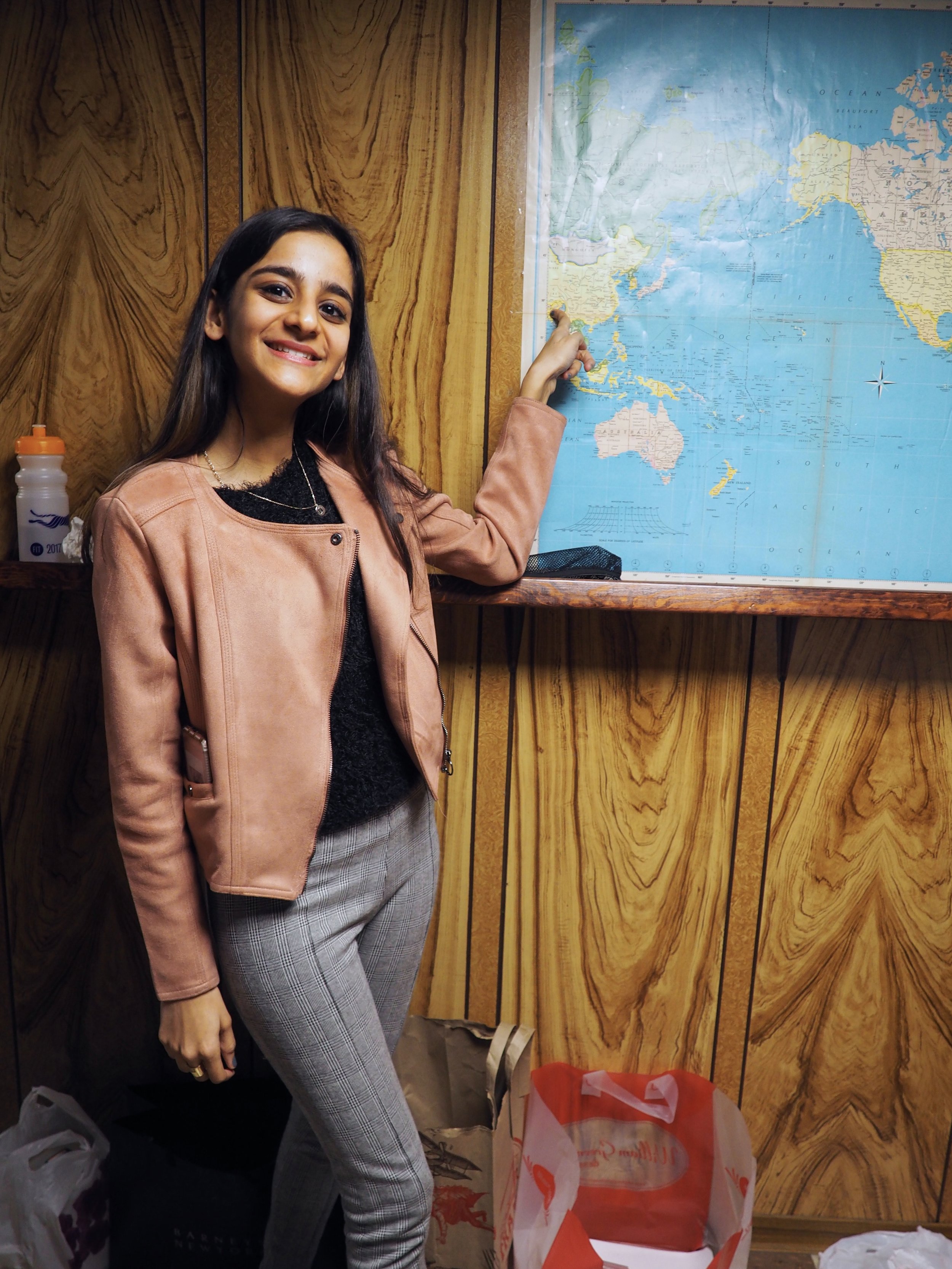 Accompanying Hye from the dorms was Joon, who is also Korean. Joon is one of my new favorite humans. He has this incredible center-part haircut and the smiliest eyes I have ever seen. Every day he has on a different perfectly styled outfit that no one else in the whole city could pull off quite like he does.
Hye and Joon invited Christina, who happens to be from Portland, Ore., Ariel, also from Korea, and Tammy who brought along her class-mate from China.
The last in the pack was Niyomi, who is from India. I met Niyomi during Freshman Orientation. We were matched up in a workshop to help each other come up with our very best stories to share in a photo project. She blew me away with her story, her driven spirit and her determination to get to New York no matter what life threw at her. We haven't run into each other much since then, so I was glad to see that she could make it.
As we were heading toward my apartment, Joon pointed up at the sky, bursting with excitement.
"Oh! Oh! You can see stars!"
Everyone oohed and awed. I see those six little stars every day and grumble about them not being quite like the ones you see back at the farm.
"In my country you can never see them," He added.
Maybe I won't grumble anymore.
Once inside, we spread a blanket over the pool table and placed our dishes upon it like a grand banquet table.
There was my traditional offering; turkey, (He lost some presentation points in transferring from pan to plate), corn casserole, stuffing, mashed sweet potatoes, gravy, Artisan bread, and cranberry sauce; then there was Julia's dumplings, drinks, and salad, Joon's Korean sweet and spicy dried shrimp, and Niyomi's Indian curry and spicy cauliflower dish.
Rhidema, quite possibly the most graceful and elegant woman I know, arrived in time to warm up a pan of delicious Indian-style beans. She grew up in Dubai, and just spent a foundation year studying at London College of Fashion. She and I share most classes, and she's usually wearing her own designs and wowing our instructors with her out-of-the-box thinking.
Last, but certainly not least to arrive was Nicole who brought along her own twist on handmade dumplings. Nicole is 50/50 Chinese/Korean, but has spent her whole life in Brooklyn. She knows absolutely everyone no matter where we are, and is both bubbly and blunt. Everyone loves her for it. We also have several classes together and she lets me use half of her locker for my sewing supplies.
There were thirteen of us all together. We ate and talked and laughed. Nicole kept us all entertained, and her dumplings must have been really good because they were long gone by the time I made it around the table.
Almost everyone was skeptical of the idea of our American stuffing, but the best questioning looks were directed at the gravy. What was this strange brown goo and why would we put it on our potatoes? The Indian food was a hit, but Joon's shiny black squid sat untouched until after dessert, when someone got brave and then we decided we all needed to follow suit. It was actually really good.
Next we played games. There were a few rounds of Doctor, where one person goes out of the room while the group comes up with a shared "disease," such as always tapping your feet before each answer or answering the way a certain pre-decided person would.
Then came Spoons, a fast pace card game where blood is always inevitably drawn. It was such a large group that we decided instead of making people be "out," we would settle for a quick punishment before allowing them back into the next round.
"Everyone hates getting compliments," Christina offered.
So after each gory round, the "loser," the last person to grab for a spoon, would sit in agony while we went around the circle and complimented them.
Then there was a simple "Thanksgiving" game. We took turns pulling paper out of a hat with things we'd written that we were thankful for, and tried to guess who wrote what. It was fun to hear and share all of the things we've been blessed with, especially as many of the answers had to do with "each-other."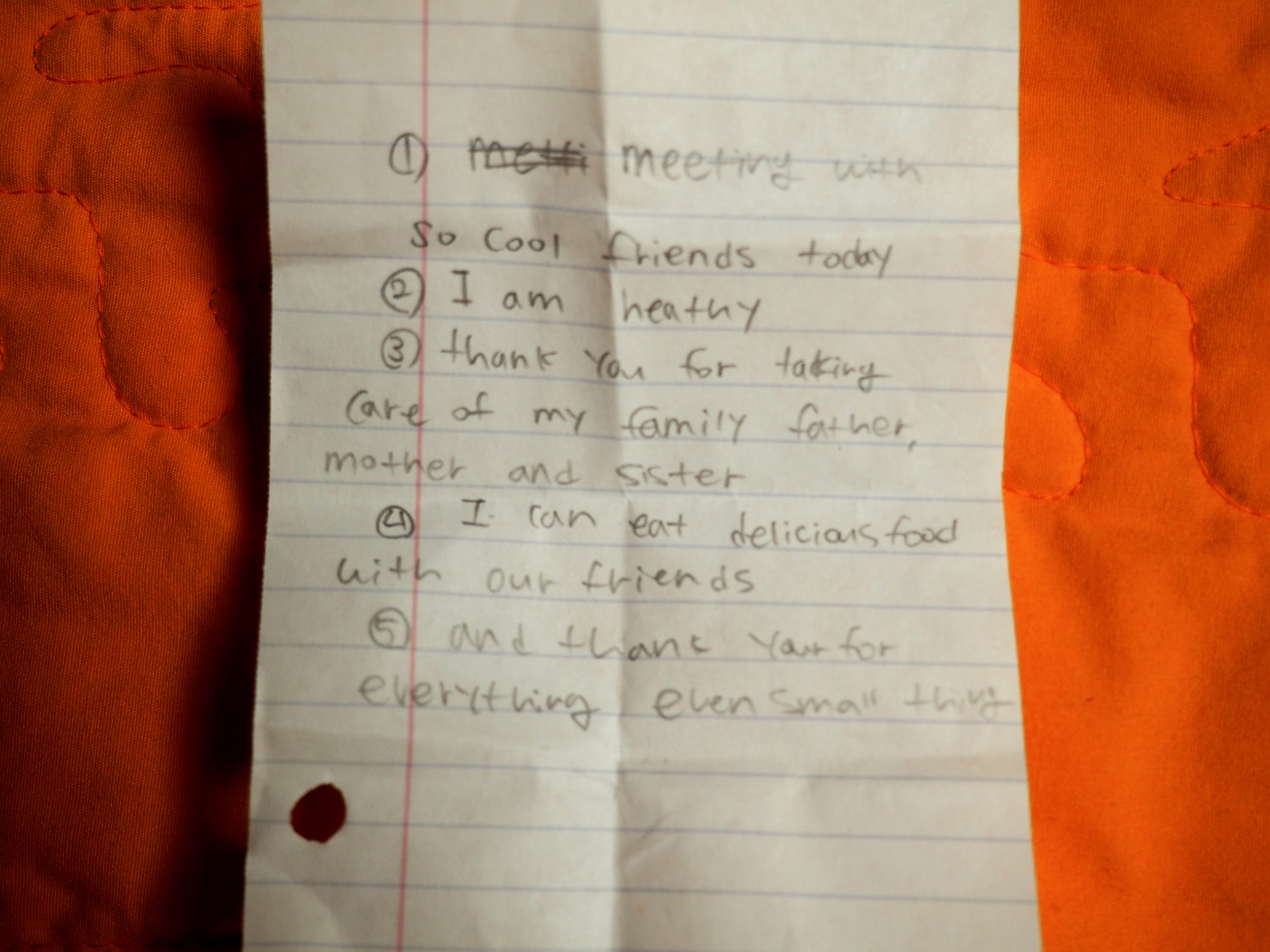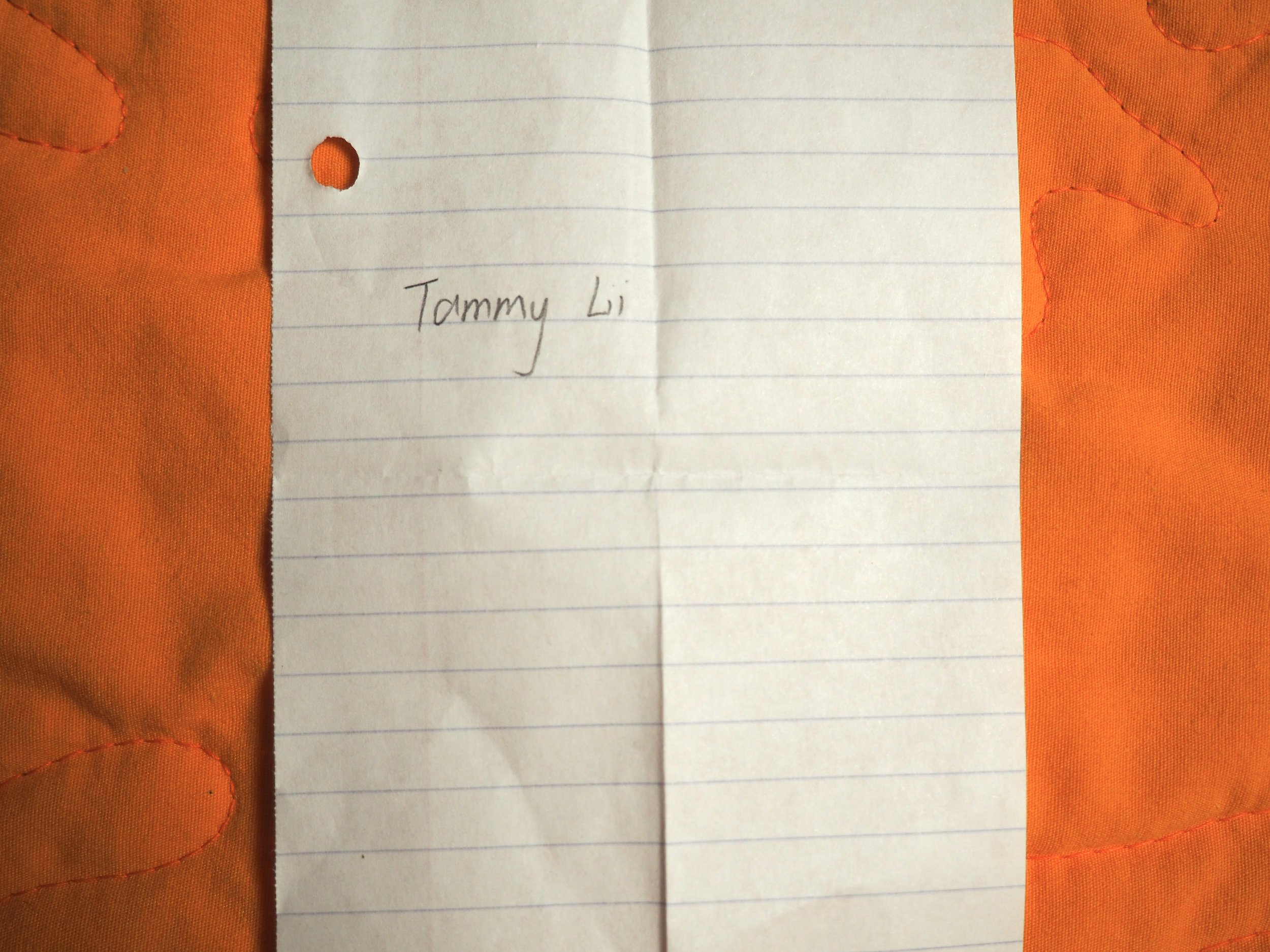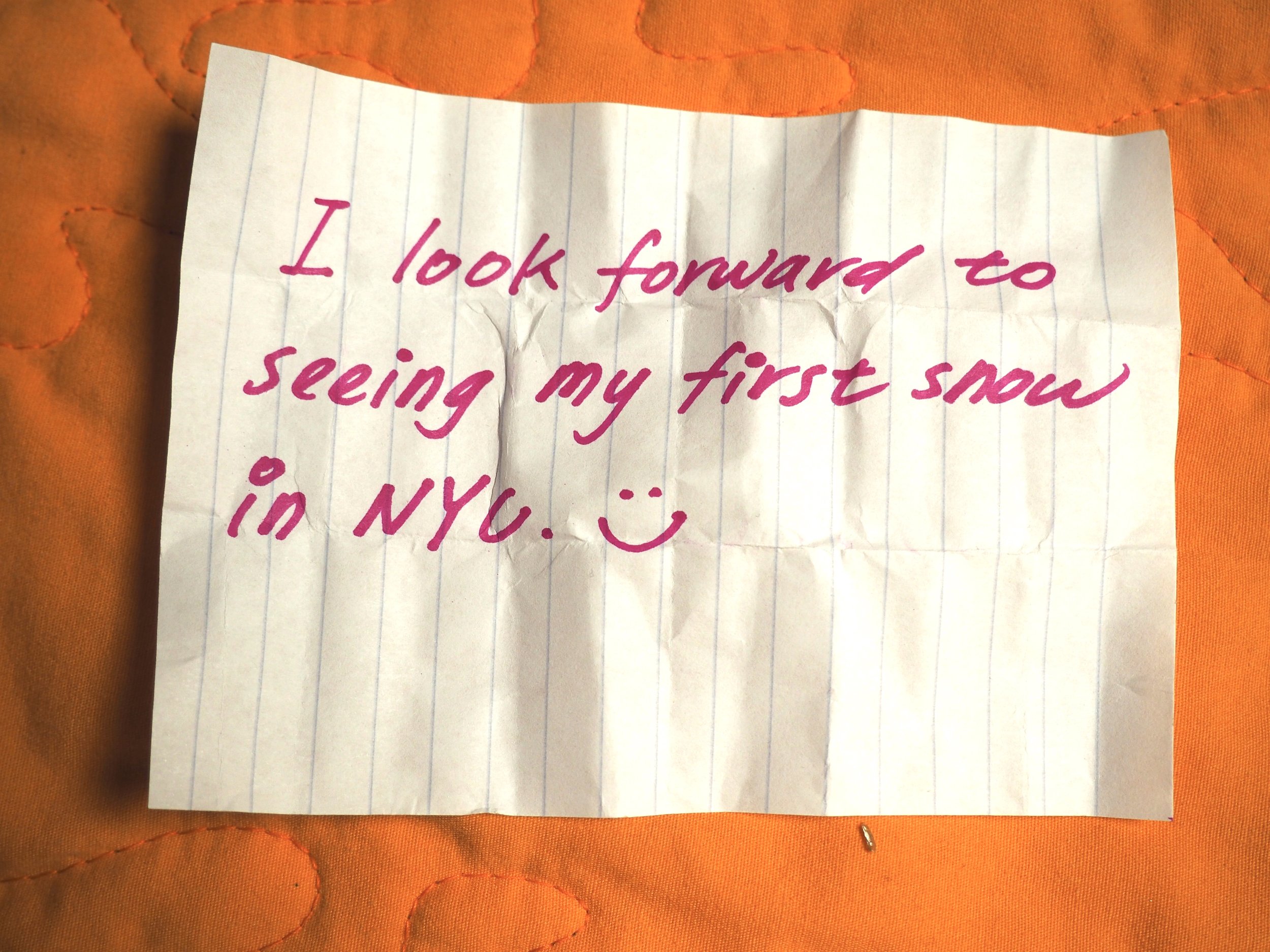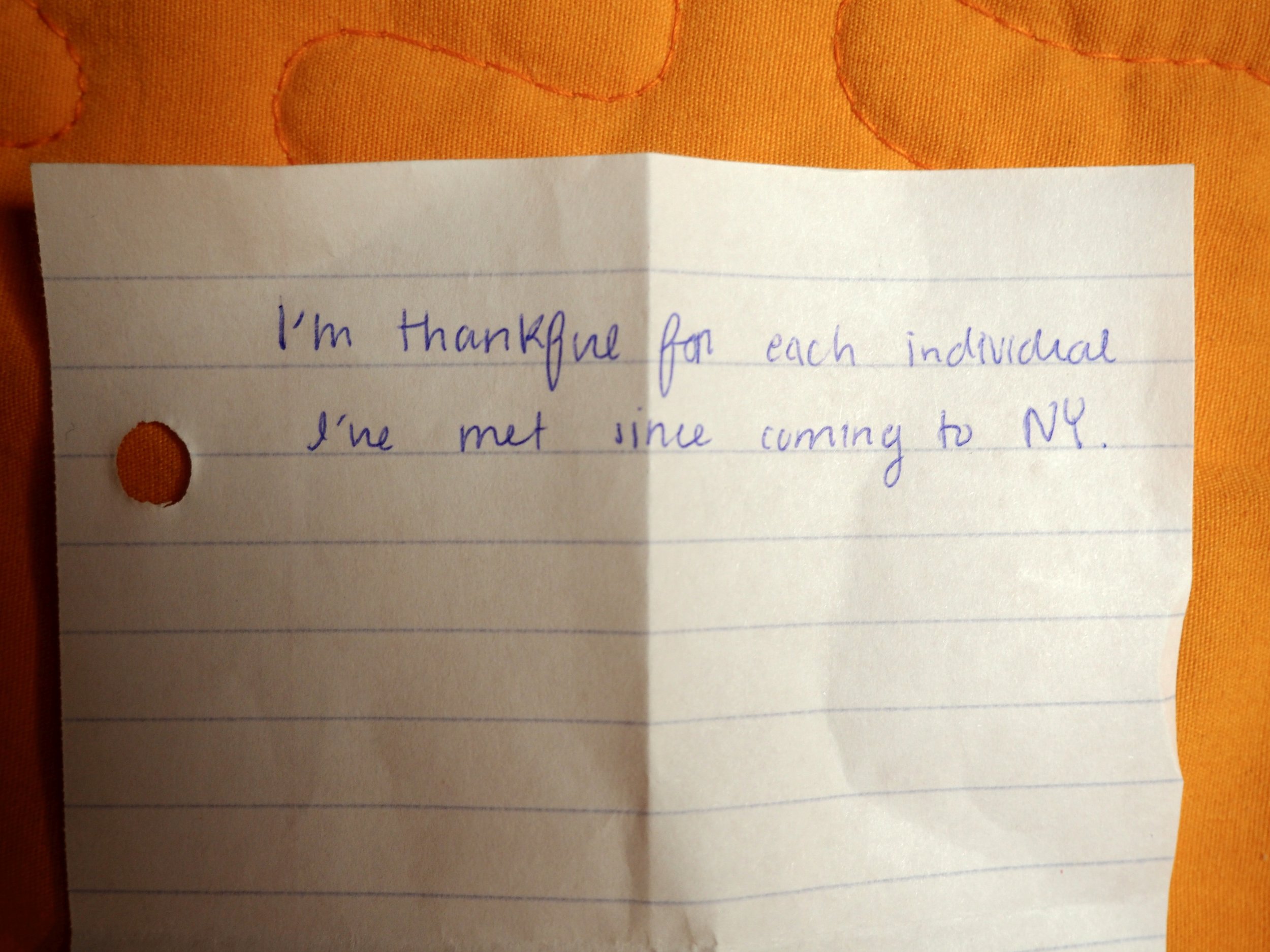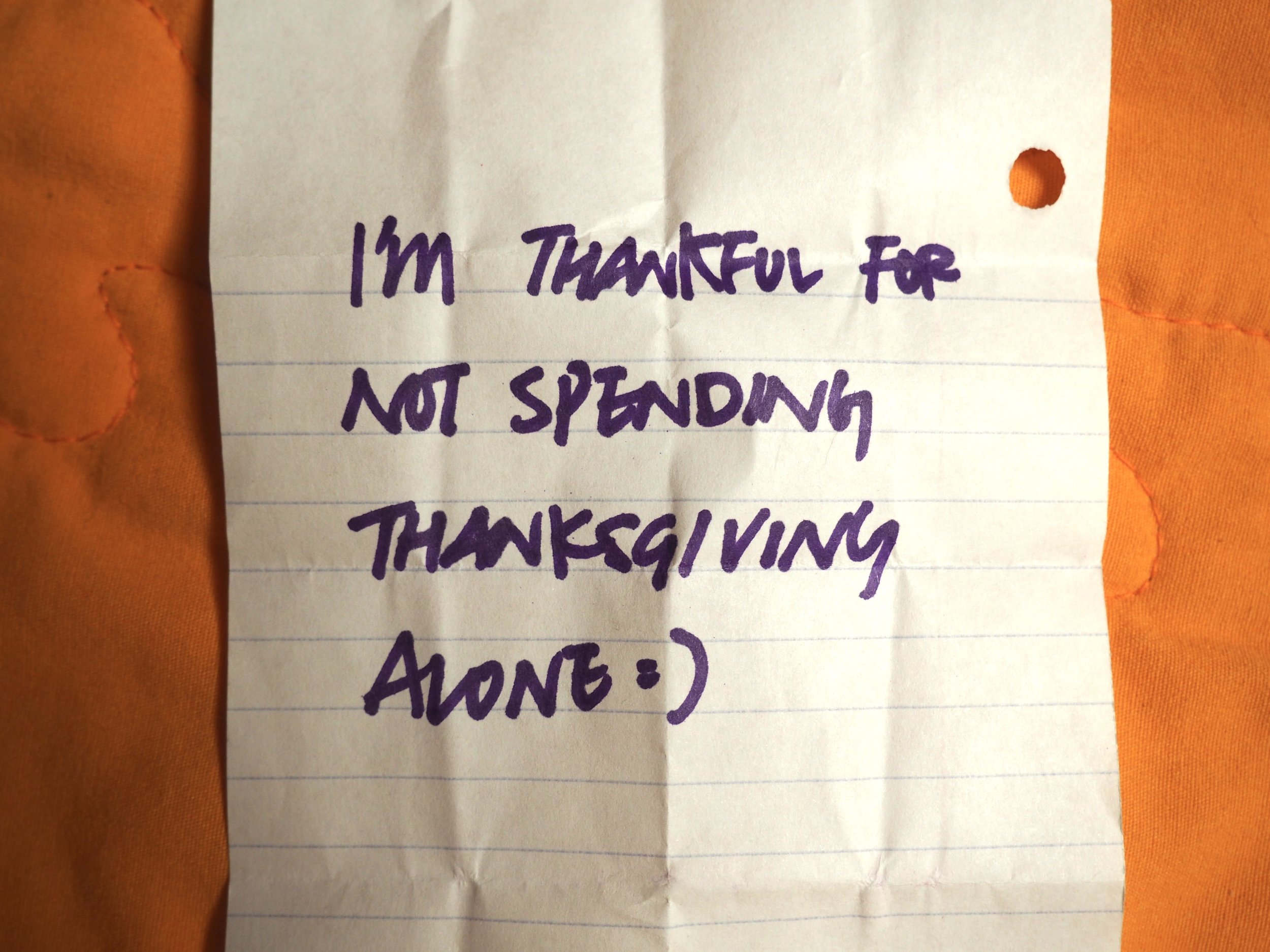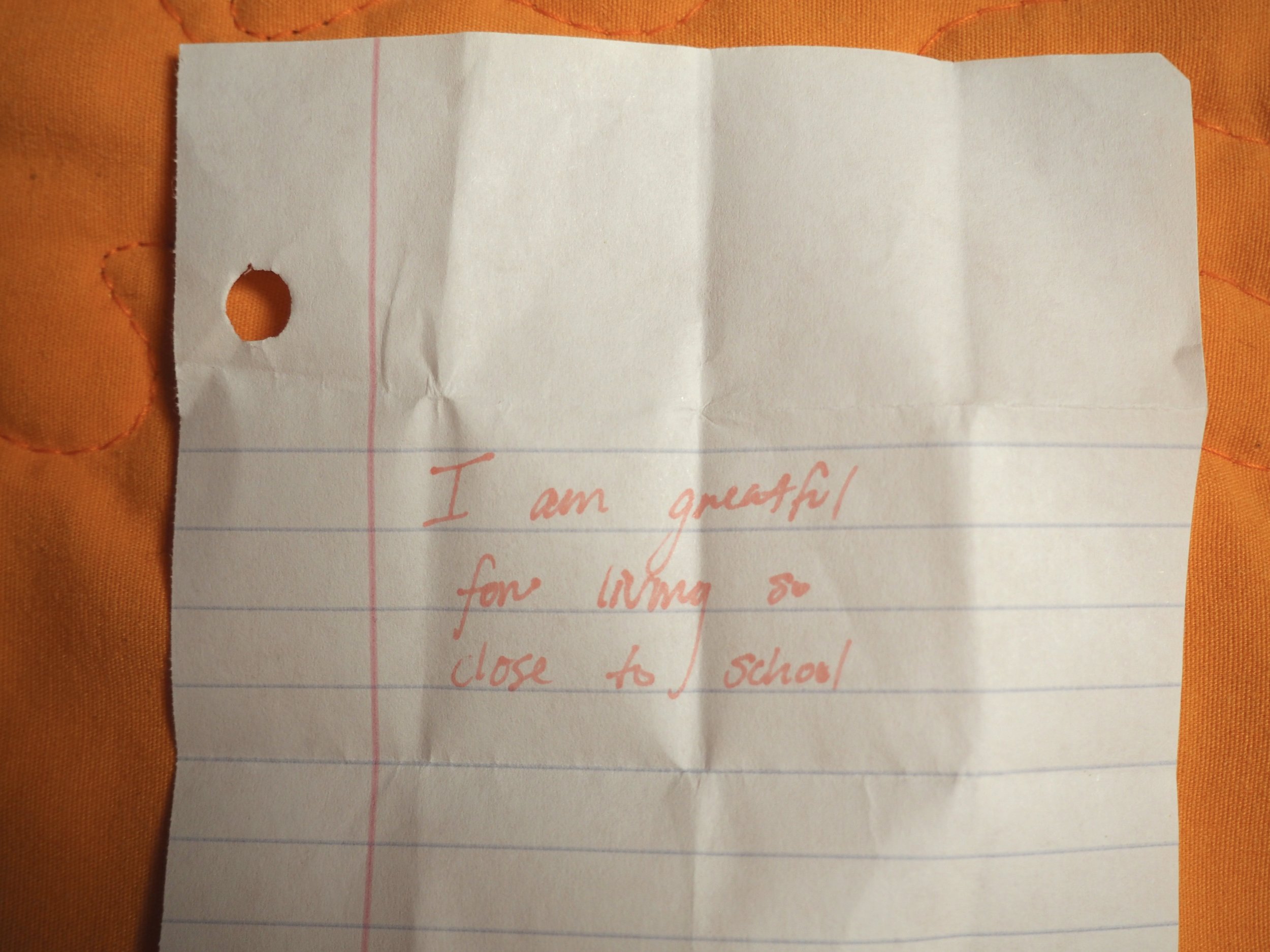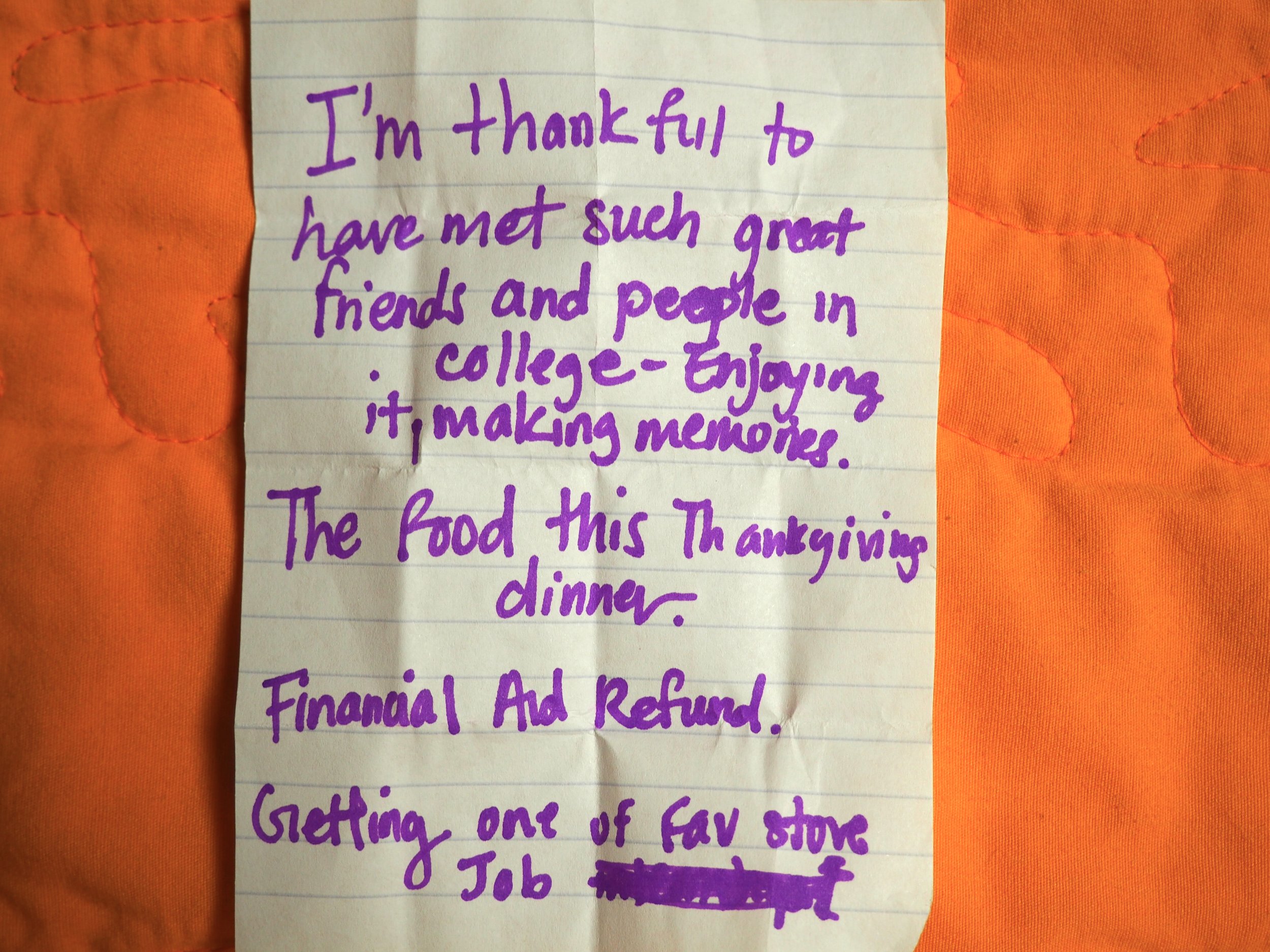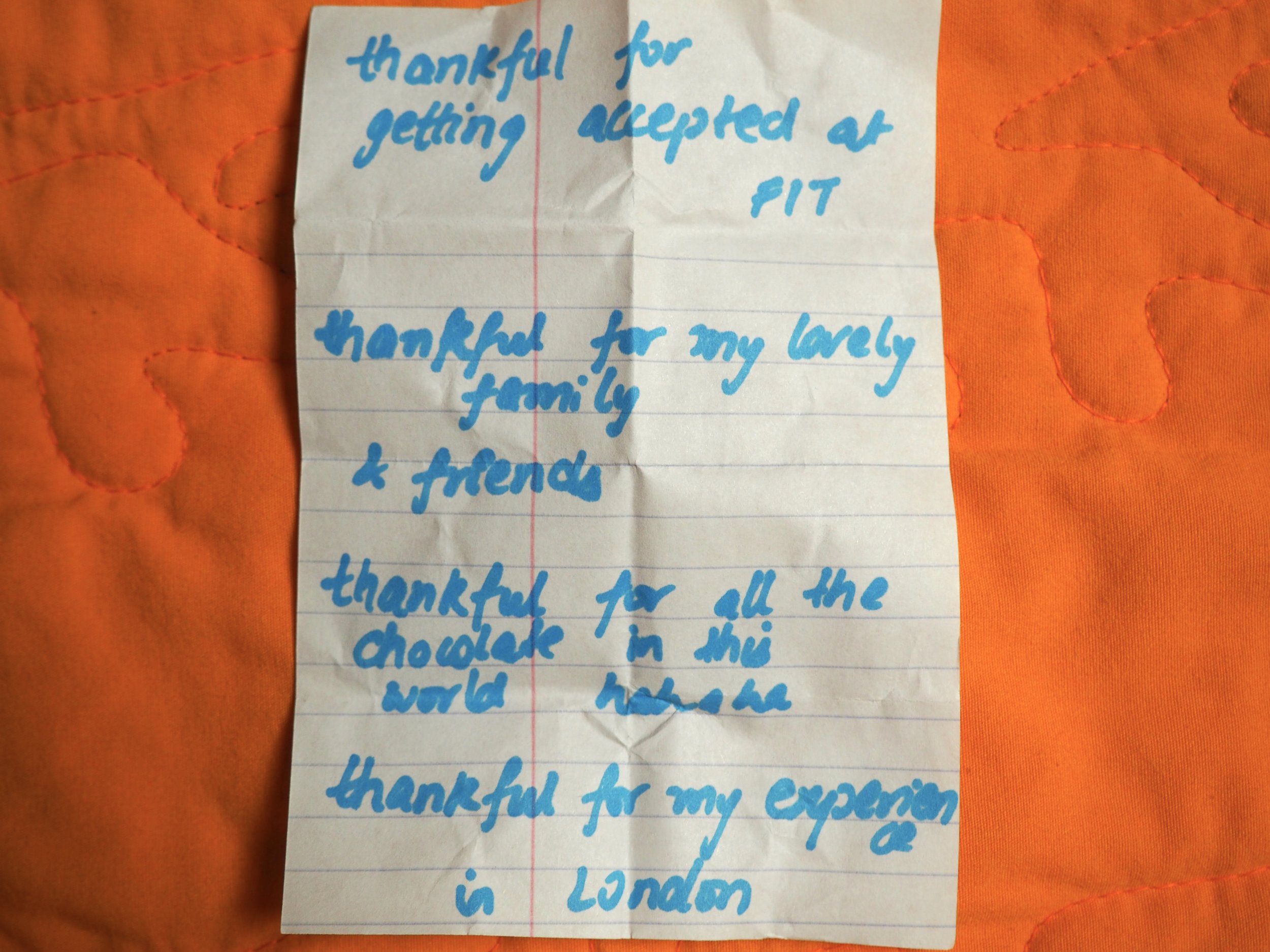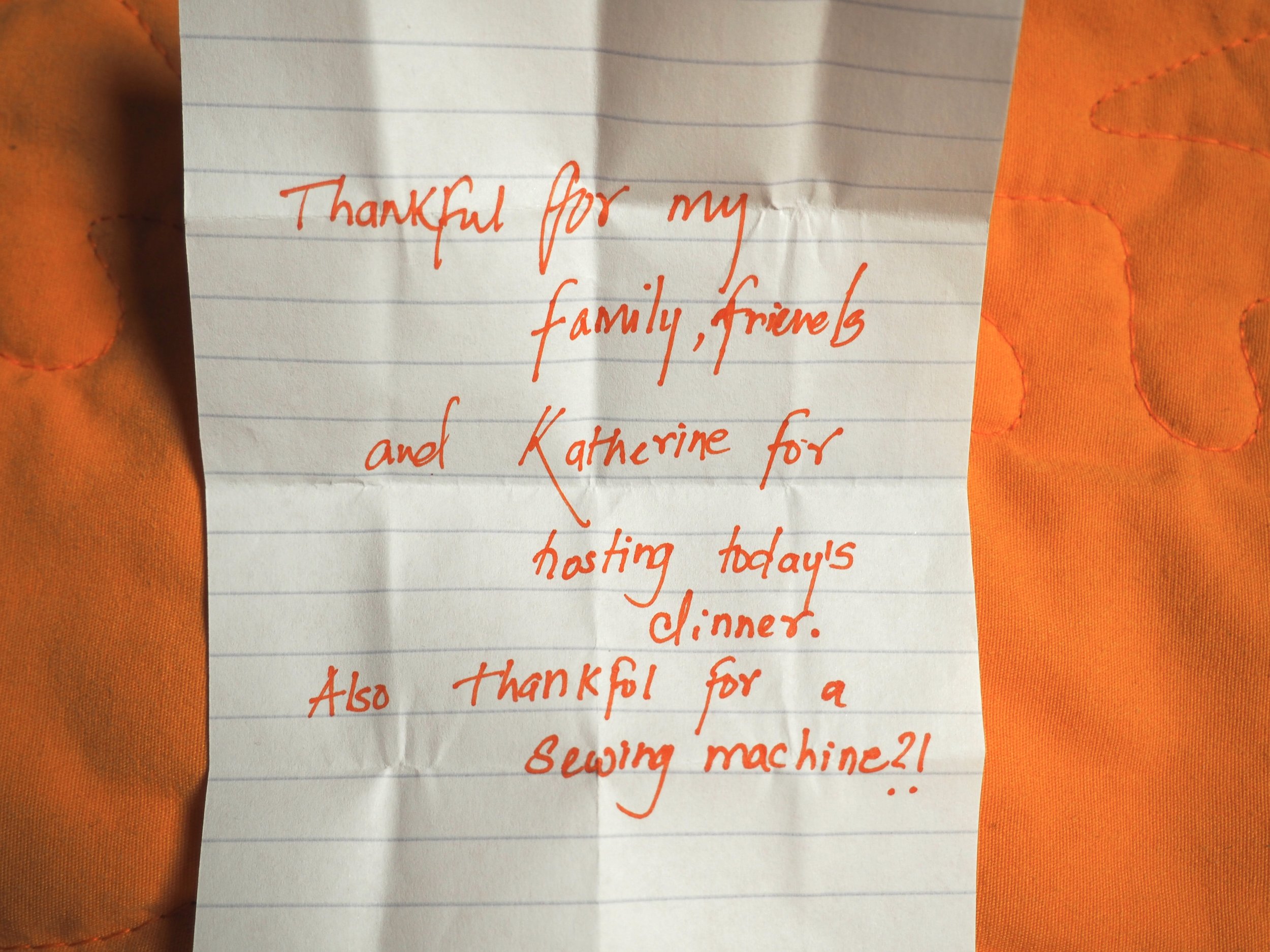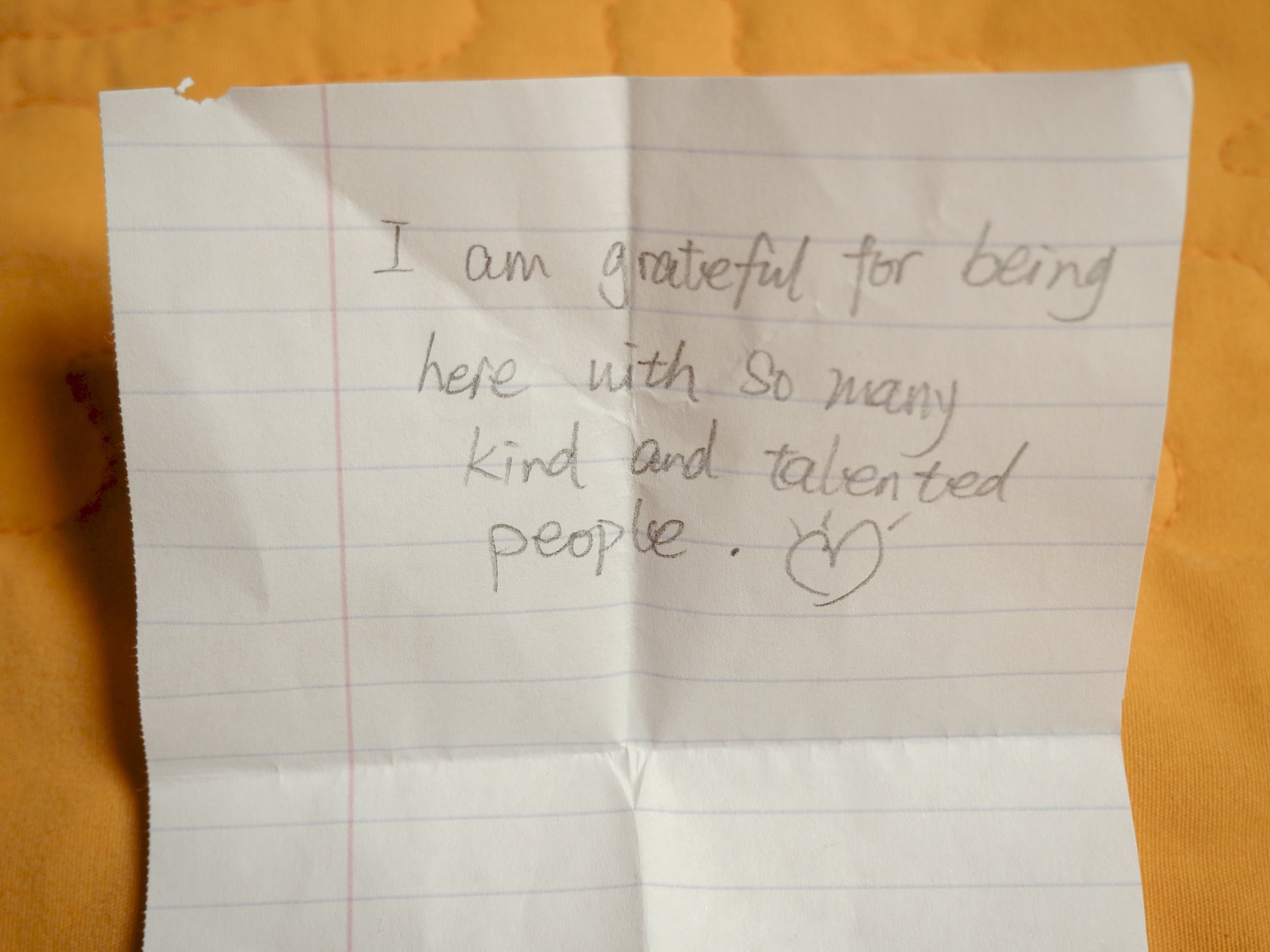 The visiting boy from China's paper simply read "Tammy Li."
There were custard tarts that Tammy and her friend collected in Chinatown that morning, a pecan pie from Hye, and then Tiffany and Julia's desserts. The custard tarts were so good that I'm already scheduling my next visit to Chinatown, and my grandmother would have been quite pleased with Tiffany's pie crust. The crisp was warm, and there was plenty of ice cream to go with it.
Ana showed off some of her South American rhythm and Ariel summoned her K-Pop vibes. Lots more laughter. Lots more food.
The perfect end to a perfect Friendsgiving.
It can be hard to be away from the things you know and the traditions that feel like home, but at the end of the day, I think that was really fills us up on Thanksgiving is not Grandma's pie or Grandpa's stories. It's those feelings of being together, and being loved that are tied to those traditions that make us happy. And with a little effort, I think those same feelings can be found anywhere. The intimate act of breaking bread together, of listening and laughing, and knowing exactly what you are thankful for.
I'm thankful for the precious memories of my family and the things I know. But today I am so thankful for the opportunity to make new memories and find joy in what is unknown to me, that I may come to learn.
The stars don't shine in Brooklyn like they do back on the farm. But they do shine. And I'm thankful for new friends like Joon who help me to stop and appreciate that they really do, adding yet one more gift to an ever growing list of blessings.