Pretty Brilliant
A reflection of September's New York Fashion Week and my first month in fashion school.
New York Fashion Week has come and gone, and my Youth With A Mission (YWAM) friends have all dispersed back to their various corners of the globe. They let me tag along with them again this year, working backstage dressing models with their Beauty Arise team.
We pulled zippers up spines spattered with bruises derived from excessive amounts of sit-ups, we stuck synthetic nails over malnourished and cracked fingernails, and held the shaking hands of girls too weak to step into their high-heeled shoes unassisted.
These experiences at Fashion Week always make me question a lot of things.
But these girls aren't trying to hurt themselves.
They just want to do their job. They just want to be pretty.
We may shake our heads and may be quick to judge, but are we any different? I know I'm not.
I went on a date a few weeks ago.
It was fun. We sang all the Bruno Mars songs that played over the loud speaker outside the ice cream shop and dozens of swaying lanterns painted Chinatown's brick buildings bright red.
I dove for my last bite of ice cream when my friend stopped in the street.
"Katherine," he started, "you're so..."
I tilted my head to the side. Oooh say pretty!
"Independent."
I felt a genuine pang of disappointment.
"It's remarkable," he added.
I wasn't flattered at all.
Disappointment turned into conviction as I sat on the Subway headed home that night.
I'd been paid a compliment about my character and it should have made me feel proud -- but in all honesty, it made me feel like I had at school sports awards nights when the pretty, popular girls took home "most valued player," awards and I walked away with "great attitude" or "good hustle."
In grade school we were often asked to tell the class one thing we like most about ourselves. I can't tell you how many times "my eyes," or "my hair," would rattle down the line of girls, until we heard a single "I'm smart," which of course would be rewarded by eye rolls.
I hope I don't lose my feminist friends here, but really, girls don't want to be independent, or have hustle. They want shiny score sheets and skinny long legs. Girls want to be pretty!
What's the deal?
Well, I don't think that's society's fault. I don't think it's Fashion's fault.
Fashion is a visual industry and pretty does pay. Yes, it's a world where "Good morning," is usually followed by "Who are you wearing today?" — But there's more to it than that.
I'm five weeks into my first semester at The Fashion Institute of Technology (FIT), and the word pretty has no place here. It's brilliance that is striven for.
Two out of three students who applied to Fashion Design didn't make it to the table. Before I came to FIT, I thought I knew about work ethic and creativity. When I walked into the library to study at six in the morning I thought it would be empty, but when I climbed the stairs, every computer was occupied. Every work station was erupting with construction paper, glue sticks, and brain power.
A crumpled pillow lead me to believe some of the students had slept there.
I was proud of the drawing I'd handed in for my illustration class, until I saw the grade in the right hand corner. My professor had painstakingly traced over every line in my drawing, correcting every missed angle, and she'd written detailed notes on what I could work on for next time. She wanted me to get it right.
She wanted every one of her 120 students to get it right.
The attention to detail blows my mind every single day.
On Monday mornings I have a three-hour Art History class. My professor, five foot nothing and a hundred pounds of grit, paces the room lecturing on Renaissance Art with the spirit of a Southern Baptist preacher. She asks us questions and demands that we have solidity in the way we back up our answers.
On Wednesday my Textile Science class met in a stark white lab. A man in a white lab coat and goggles brought out beakers of acid and a blow torch. He taught us how to identify natural fibers by how they smelled as they burned. He brought out microscopes so that we could see that cotton fiber has an oval shape and wool is rounded and scaled, and how those shapes effect our designs.
Below, my friend, Nicole Feng, let me post our mood boards together with some of our assigned images to help show how different stories can come out of the same group of images.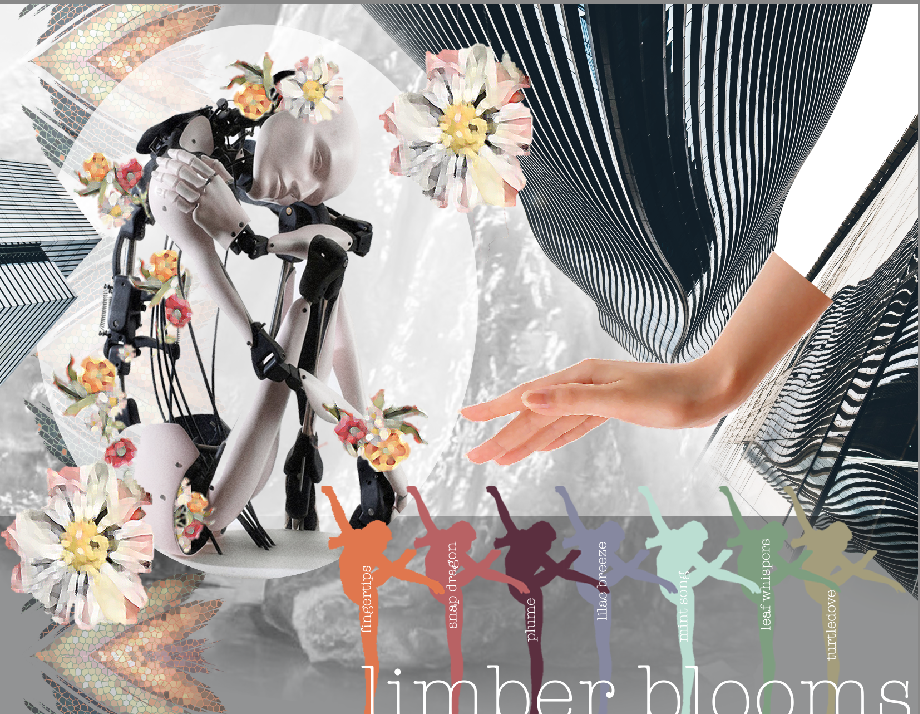 My favorite class is Digital Design.
For our first assignment we were given a handful of images to use to create a "mood board" to inspire prints for fabric that we would then design and map onto real images of models and then print into actual fabric.
I'm terrible at it, honestly, but I love how limitless design can be in photoshop. I love seeing what my classmates are creating — I love seeing how many different stories are being told with the same exact images.
I also have a draping class and a sewing class. I've sewn a hundred dresses in my life... I thought I knew something. Was I ever wrong! On my first day I was handed a ruler marked in increments of 1/16 of an inch. "You'll be using this now."
My draping class starts at 2 p.m. and concludes at six. My professor has a 2-hour commute home, but she often stays after with us until nearly 8:00 p.m. She holds us to the exemplar standard of employees working in a couture house, but she fusses after us like we are her own children.
"I can't leave you until I know you know," she'll say.
My professors have all spent decades in the industry. They aren't at FIT because they're looking for a pension -- they're there because they want to give back to the industry that brought so much meaning to their own lives over the years. They delight in our ideas. They are brilliant and they want us to be brilliant.
Fashion Week always makes me question why I flew 2,500 miles from home for an industry that can feel so overtaken by superficial messages. It makes me confused about the idea of pretty and it makes me want to "fix things."
But I'm learning that this industry is more than about pretty or even "art." I like to make things. I like to make pretty things. But I'm starting to see that Fashion is about making brilliant things. It's about "getting it right" -- an attention to detail that trickles down off the runways and into the backs of you and me.
I think it's okay to want to be pretty. I think that's an innate part of being a girl. I can't change that and I can't change the dark parts of the fashion industry. Sometimes "getting it right," can push a little too far outside of what is right for us as humans. I can't make every model feel like she doesn't have to be the industry's standard of perfection to be a beautiful daughter of Jesus.
I can, however, take every opportunity I am presented with to learn from what is brilliant about Fashion, and in return I can try my very best to share some aspect of love, of who Jesus is, with the genius people I come across along the way. As a girl, I'll always want to be pretty. Odds are you will too. I think another thing I can do, we all can do, is work on learning to cherish what is brilliant inside of us.
I think it's something you and I can both do together.